Roadtrip Nation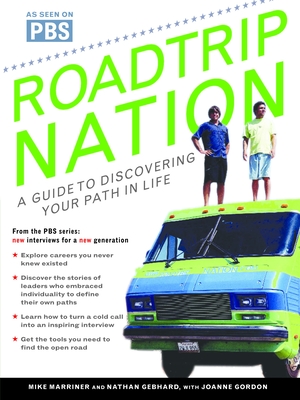 Roadtrip Nation
A Guide to Discovering Your Path in Life
Ballantine Books, Paperback, 9780345496386, 281pp.
Publication Date: August 22, 2006
* Individual store prices may vary.
Buy at Local Store
Enter your zip code below to purchase from an indie close to you.
or
Buy Here
Description
SO WHAT ARE YOU GONNA DO WITH YOUR LIFE?
"You should be a lawyer, a doctor, an accountant, a consultant, blah, blah, blah. Everywhere you turn people try to tell you who to be and what to do with your life. We call that the noise. Block it. Shed it. Leave it for the conformists. As a generation, we need to get back to focusing on individuality. Self-construction rather than mass production. Define your own road in life instead of traveling down someone else's. Listen to yourself. Your road is the open road. Find it."--Mike and Nathan
*****
After college Mike Marriner and Nathan Gebhard had no idea what to do with their lives. All they'd been exposed to were standard career paths like doctor and consultant--roads that didn't fit them at all.
To see what else was out there they took a roadtrip across the nation in a huge forty-foot RV to meet with people who had successfully defined their own paths in life--including the chairman of Starbucks; a lobsterman from Maine; the director of Saturday Night Live; the conductor of the Boston Philharmonic; the first female Supreme Court Justice of the United States; head stylist for Madonna; and the CEO of National Geographic Ventures. All told, one hundred and forty people candidly shared their stories about how they got from college to the present. Now in Roadtrip Nation, Mike and Nathan share the most compelling tales with you.
Along the way, they explain how you, too, can get out there and meet people on your own. From making cold calls to asking stimulating interview questions, Roadtrip Nation will give you the tools to create a life that you'll look back on and say: "I was true to myself every step of the way.