New York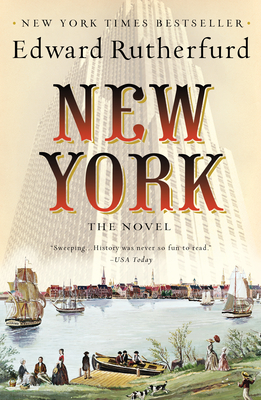 New York
The Novel
Ballantine Books, Paperback, 9780345497420, 880pp.
Publication Date: September 21, 2010
* Individual store prices may vary.
Buy at Local Store
Enter your zip code below to purchase from an indie close to you.
or
Buy Here
Description
Winner of the David J. Langum, Sr., Prize in American Historical Fiction
 
Named one of the best books of the year by The Washington Post and "Required Reading" by the New York Post

Edward Rutherfurd celebrates America's greatest city in a rich, engrossing saga, weaving together tales of families rich and poor, native-born and immigrant—a cast of fictional and true characters whose fates rise and fall and rise again with the city's fortunes. From this intimate perspective we see New York's humble beginnings as a tiny Indian fishing village, the arrival of Dutch and British merchants, the Revolutionary War, the emergence of the city as a great trading and financial center, the convulsions of the Civil War, the excesses of the Gilded Age, the explosion of immigration in the late nineteenth and early twentieth centuries, the trials of World War II, the near demise of New York in the 1970s and its roaring rebirth in the 1990s, and the attack on the World Trade Center. A stirring mix of battle, romance, family struggles, and personal triumphs, New York: The Novel gloriously captures the search for freedom and opportunity at the heart of our nation's history.
About the Author
Edward Rutherfurd was born in Salisbury, England, and was educated in Wiltshire and at Cambridge. He has since lived on both sides of the Atlantic, in Dublin and New York, but he returned to his roots to write his first novel, the best-selling Sarum, a history of Salisbury. This was followed by the best-selling Russka, a sweeping history of Russia from the cossack horsemen to the Bolshevik revolution.
Until the 1980s, Edward Rutherfurd pursued a business career -- he attended Stanford Business School, worked for W.H. Smith, and was employed by Tory Party Central Office. As a child, he had been fascinated by the novels of C.S. Forester, Henty, and the historical romances of Sir Arthur Conan Doyle. His grandmother, Evelyn Winch, was a well-known romantic novelist of the 1930s. Rutherfurd was also influenced by the novels of James Michener, such as Covenant and Texas, and saw that no one had attempted a similar approach in the United Kingdom.
Rutherfurd gave up his secure day job and spent two years researching and writing Sarum. When it was half-finished, and funds were running low, he realized he needed to find an agent. He approached agent Gill Coleridge with a few chapters and a synopsis. Within a month, Century bought the book in England, and the novel was auctioned in the United States. Ten years later, Sarum is still selling all over the world.
Edward Rutherfurd currently lives outside Dublin, Ireland.
"From the Hardcover edition."
Praise For New York…
 
"Sweeping . . . History has never been so fun to read."
—USA Today
 
"In the tradition of James Michener, Rutherfurd unfurls more than three centuries of the city's history as seen through the eyes of the descendants of [the] van Dyck and Master [families]—and the many other colorful characters he introduces along the way."
—Detroit Free Press

"Incredible storytelling . . . Readers will fall in love with the iconic city."
—The Post and Courier
 
"[A] riotous, multilayered portrait."
—The Washington Post