The City & the City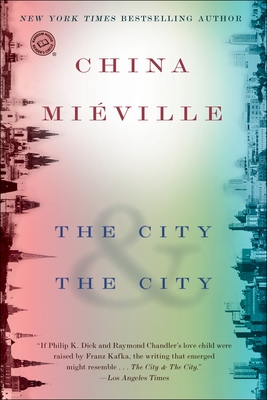 The City & the City
Del Rey Books, Paperback, 9780345497529, 336pp.
Publication Date: April 27, 2010
* Individual store prices may vary.
Buy at Local Store
Enter your zip code below to purchase from an indie close to you.
or
Buy Here
Description
NAMED ONE OF THE BEST BOOKS OF THE YEAR BY "THE LOS ANGELES TIMES, THE SEATTLE TIMES," AND "PUBLISHERS WEEKLY"
When a murdered woman is found in the city of Beszel, somewhere at the edge of Europe, it looks to be a routine case for Inspector Tyador BorlU of the Extreme Crime Squad. To investigate, BorlU must travel from the decaying Beszel to its equal, rival, and intimate neighbor, the vibrant city of Ul Qoma. But this is a border crossing like no other, a journey as psychic as it is physical, a seeing of the unseen. With Ul Qoman detective Qussim Dhatt, BorlU is enmeshed in a sordid underworld of nationalists intent on destroying their neighboring city, and unificationists who dream of dissolving the two into one. As the detectives uncover the dead woman's secrets, they begin to suspect a truth that could cost them more than their lives. What stands against them are murderous powers in Beszel and in Ul Qoma: and, most terrifying of all, that which lies between these two cities.
About the Author
China Mieville has a Ph.D. from the London School of Economics. He lives in England. He is the author of several books, including "King Rat", which was nominated for both the International Horror Guild and Bram Stoker Awards for best first novel, and "Perdido Street Station", winner of the 2001 Arthur C. Clarke Award.
Praise For The City & the City…
"Daring and disturbing . . . Miéville illuminates fundamental and unsettling questions about culture, governance and the shadowy differences that keep us apart."—Walter Mosley, author of Devil in a Blue Dress "Lots of books dabble in several genres but few manage to weld them together as seamlessly and as originally as The City and The City. In a tale set in a series of cities vertiginously layered in the same space, Miéville offers the detective novel re-envisioned through the prism of the fantastic. The result is a stunning piece of artistry that has both all the satisfactions of a good mystery and all the delight and wonder of the best fantasy."—Brian Evenson, author of Last Days"If Philip K. Dick and Raymond Chandler's love child were raised by Franz Kafka, the writing that emerged might resemble China Mieville's new novel, The City & the City." —Los Angeles Times"China Mieville has made his name via award-winning, genre-bending titles such as King Rat, Perdido Street Station, The Scar and Iron Council. Now, in The City & the City, he sets out to bend yet another genre, that of the police procedural, and he succeeds brilliantly…. [An] extraordinary, wholly engaging read." — St. Petersburg Times"An eye-opening genre-buster. The names of Kafka and Orwell tend to be invoked too easily for anything a bit out of the ordinary, but in this case they are worthy comparisons." — The Times, London"Evoking such writers as Franz Kafka and Mikhail Bulgakov, Mr. Miéville asks readers to make conceptual leaps and not to simply take flights of fancy."—Wall Street Journal"An outstanding take on police procedurals…. Through this exaggerated metaphor of segregation, Miéville skillfully examines the illusions people embrace to preserve their preferred social realities." — Publishers Weekly, starred review"An excellent police procedural and a fascinating urban fantasy, this is essential reading for all mystery and fantasy fans."—Booklist, starred review"This spectacularly, intricately paranoid yarn is worth the effort." — Kirkus, starred review