Superparenting for ADD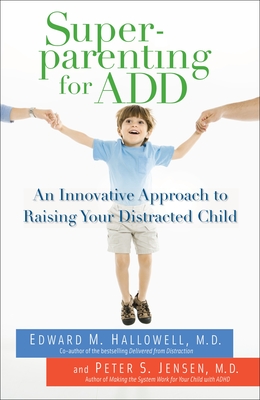 Superparenting for ADD
An Innovative Approach to Raising Your Distracted Child
Ballantine Books, Paperback, 9780345497772, 212pp.
Publication Date: February 23, 2010
* Individual store prices may vary.
Buy at Local Store
Enter your zip code below to purchase from an indie close to you.
or
Buy Here
Description
With decades of experience working with ADD children, Dr. Edward Hallowell has long argued that ADD is too often misunderstood, mistreated, and mislabeled as a disability. Now he teams up with top academic ADD researcher Peter S. Jensen, M.D., to bring you an invaluable new approach to helping your ADD child. Superparenting for ADD offers a specific game plan including
UNCONDITIONAL LOVE Tune out the diagnosticians and simply nourish the spirit of your child for who he is.
VIEWING THE MIRROR TRAITS Recognize the positive sides of the negative symptoms associated with ADD: stubbornness = persistence; impulsiveness = creativity; intrusiveness = eagerness.
THE CYCLE OF EXCELLENCE Nurture an environment in which a child can safely take risks, reserve time to let a child dabble as a way to learn, encourage playful practice, support mastery of a skill, and then recognize a child's accomplishments.
About the Author
Edward M. Hallowell, MD, is a child and adult psychiatrist and an instructor at Harvard Medical School. He is also the director of the Hallowell Center for Cognitive and Emotional Health in Sudbury, Massachusetts. He is the author of When You Worry About the Child You Love and The Childhood Roots of Adult Happiness. He lives with his wife and children in Arlington, Massachusetts.

Peter S. Jensen, MD, is Director of the Center for the Advancement of Children's Mental Health and Ruane Professor of Child Psychiatry at the Columbia University College of Physicians and Surgeons. Previously, he was Associate Director of Child and Adolescent Research at the National Institute of Mental Health (NIMH), where he was the lead NIMH investigator on a major study of the treatment of ADHD. He is the author or editor of numerous scientific articles and books; has received prestigious national awards for his research, writing, and teaching; and serves on the board of directors of Children and Adults with Attention-Deficit/Hyperactivity Disorder (CHADD), among other organizations. This book is the first in a new series edited by Dr. Jensen, "Making the System Work for Your Child."

Praise For Superparenting for ADD…
Advance praise for Superparenting for ADD

"The shelves of most bookstores are lined with volumes that define, explain, and demystify attention deficits. But Superparenting for ADD is different. An upbeat, positive, and constructive guide, it offers parents strategies that will assist them in the day-to-day challenges of raising their ADD child and help him to reach his fullest potential."
–Richard Lavoie, author of It's So Much Work to Be Your Friend

"I once believed that understanding genes and their effects on the brain would be the only means to effectively help children with ADHD. But despite the strong role genes play, I wholeheartedly agree with Hallowell and Jensen that love trumps all else. This book is a must-read for parents, scientists, and physicians and it will obliterate once and for all a purely deficit-based model of understanding ADHD."
–Susan L. Smalley, Ph.D., professor of psychiatry and biobehavioral sciences, UCLA

"Superparenting for ADD is written with an exuberance and directness that makes it easy reading. . . . Taking us inside the minds of ADD children and showing how the world looks from their perspective, Hallowell and Jensen provide invaluable advice for parents and educators alike."
–Tyler C. Tingley, principal, Phillips Exeter Academy

"This beautifully written and groundbreaking book will compel you to look anew at ADD children and to see the gifts that are too often hidden in clouds of frustration and heartache. On a mission to change the paradigm of ADD treatment, Hallowell and Jensen offer very practical, step-by-step advice to help parents mine and develop the gold within every 'distracted' child. Mission accomplished!"
–John Ratey, M.D., co-author of Driven to Distraction and author of Spark: The Revolutionary New Science of Exercise and the Brain