90% of the Game Is Half Mental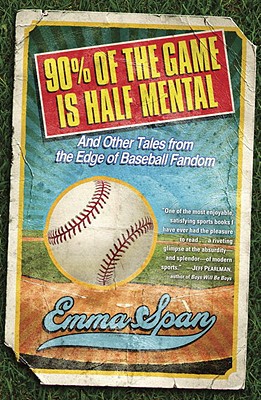 90% of the Game Is Half Mental
And Other Tales from the Edge of Baseball Fandom
Villard Books, Paperback, 9780345501752, 166pp.
Publication Date: March 16, 2010
* Individual store prices may vary.
Buy at Local Store
Enter your zip code below to purchase from an indie close to you.
or
Not Currently Available for Direct Purchase
Description
Yogi Berra once said: "If you come to a fork in the road, take it." But for lifelong baseball aficionado Emma Span, it hasn't always been that simple. Now, in this winning collection of essays, Span chronicles her love of the sport, from childhood hobby to full-blown obsession, from big break (becoming The Village Voice's first staff sports reporter in years) to heartbreak (getting a pink slip within a year). She recounts elbowing her way to get a quote from Yankees captain Derek Jeter and waiting for Mets pitcher Pedro Martinez to put some pants on for an interview. She literally gives her lifeblood to see the Mets and hops a plane to Taiwan, home to perhaps the largest concentration of Yankees fans outside of the five boroughs. But after getting laid off and being forced to leave her press pass behind, Span wonders if her passion for the sport will fade. Highly unlikely. Baseball helped Span forge a lasting bond with her father, connect with total strangers, and endure even the toughest times. With a fresh voice, a devastating wit, and an alarmingly encyclopedic knowledge of the game, Span offers a new perspective on America's favorite pasttime—as a journalist, a baseball nerd, a daughter, and a fervent stay-until-the-last-out fan.
Praise For 90% of the Game Is Half Mental…
"Emma Span's 90% of the Game is Half Mental is one of the most enjoyable, satisfying sports books I have ever had the pleasure to read. In a modern journalistic era pocked by snark and sarcasm, Span offers up a riveting glimpse at the absurdity—and splendor—of modern sports. Were this book a mustache, it would be Don Mattingly's—circa 1988."—Jeff Pearlman author, Boys Will Be Boys and The Bad Guys Won!

"Emma Span likes bad movies ("Bats: Human Harvest"), terrible TV shows ("Walker: Texas Ranger"), and--from the perspective of this Red Sox fan—even worse baseball teams (the New York Yankees). But her zesty dispatches from the clubhouse and the bleachers signal the happy arrival of a new generation of baseball obsessives. I still can't bring myself to root for the Yankees, but it's easy to cheer for Emma Span." —Will Blythe, author of To Hate Like This is To Be Happy Forever

"An irreverent, affectionate look at the frequently obsessive, often irrational, totally committed mindset it takes to be a true baseball fan."—Johnette Howard, author of The Rivals
 
"Emma Span understands what it means to be a sports fan. She writes about baseball the way I wish everyone would write about baseball."—Will Leitch, contributing editor, New York magazine, author God Save The Fan