Without Warning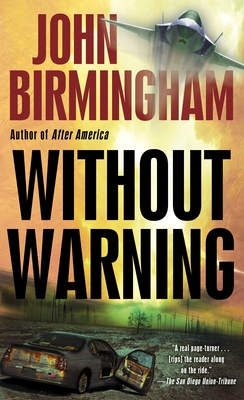 Without Warning
Del Rey Books, Mass Market Paperbound, 9780345502902, 533pp.
Publication Date: July 6, 2010
* Individual store prices may vary.
Buy at Local Store
Enter your zip code below to purchase from an indie close to you.
or
Buy Here
Description
In Kuwait, American forces are locked and loaded for the invasion of Iraq. In Paris, a covert agent is close to cracking a terrorist cell. And just north of the equator, a sailboat manned by a drug runner and a pirate is witness to the unspeakable. In one instant, all around the world, everything will change. A wave of inexplicable energy slams into the continental United States. America as we know it vanishes. From a Texas lawyer who happens to be in the right place at the right time to an engineer in Seattle who becomes his city's only hope, from a combat journalist trapped in the Middle East to a drug runner off the Mexican coast, Without Warning tells a fast, furious story of survival, violence, and a new, soul-shattering reality.
About the Author
John Birmingham's books include the cult memoir He Died with a Felafel in His Hand, Leviathan: The Unauthorised Biography of Sydney and the fiction series Weapons of Choice. He is the author of two Quarterly Essays, Appeasing Jakarta: Australia's Complicity in the East Timor Tragedy and A Time for War: Australia as a Military Power. He is a regular contributor to the Monthly.
Praise For Without Warning…
Advance praise for Without Warning

"John Birmingham's ability to seamlessly merge the gritty realism of Tom Clancy with the raw speculation of Michael Crichton is like no other author I've ever read. Brilliant, nail-biting, thoughtful, and excruciatingly pertinent to our times, his latest novel, Without Warning, is simply a tour de force, a true classic in the making. It should be required reading for the entire world."
–James Rollins, New York Times bestselling author of The Last Oracle

"What would happen if America vanished? Some would like to find out, but John Birmingham's Without Warning suggests that the Pax Americana would soon be sorely missed. It's a gripping story, for Americans and non-Americans alike."
–Glenn Reynolds, InstaPundit

"Delivers all the action and techno-detail that any Clancy fan could wish for."
–Robert Buettner, author of Orphanage

"A modern, even postmodern alternate history where the people who wish the United States would go away get what they wished for, and the consequences are meticulously, horrifically worked out in compelling detail through the eyes of a medley of interesting, well-developed characters and tightly plotted action."
–S. M. Stirling, author of Island in the Sea of Time

Praise for John Birmingham's Weapons of Choice

"Weapons-grade military techno-thriller . . . [Birmingham] describes military hardware with an exuberance and virtuosity that's positively Clancyesque."
–Time

"Birmingham's enthralling battleground mixes provocative historical fiction and socially conscious futurism."
–Entertainment Weekly