Parking Lot Rules & 75 Other Ideas for Raising Amazing Children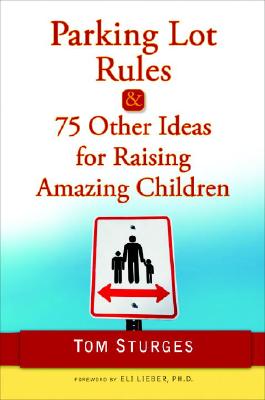 Parking Lot Rules & 75 Other Ideas for Raising Amazing Children
Ballantine Books, Hardcover, 9780345503732, 224pp.
Publication Date: May 6, 2008
* Individual store prices may vary.
Not Currently Available for Direct Purchase
or
Shop Local
Enter your zip code below to purchase from an indie close to you.
Description
How do you raise amazing children? How do you teach them to be kind and honest, insightful and inquisitive, athletic and curious, loving and thoughtful? How do you give your child the courage to be a good sport, a good sibling, a good friend, a good person?

When Tom Sturges became a father, he wanted to be the greatest father who ever walked the earth. "I wanted to be so much more than a casual observer of my son's life as it went by me." So Sturges asked a lot of questions. He picked up ideas, advice, and tips from parents, grandparents, even rock stars and sports legends–anyone who had unique insights to share. The result is this practical, inspiring "rule book" for raising healthy, happy, safe, cherished children. Philosophical, sensible, and empowering, these 76 ideas subscribe to a simple premise: It is impossible to respect a child too much, but it is worth the effort to try. The rules are organized into seven fields, arranged by subject, and will help parents, mentors, coaches, and anyone who has children, to deal with an array of situations in a kind, respectful, and encouraging way.

• EVERYDAY: Let your children feel welcome and loved from the first moment he or she walks into a room. "Smile When You See Him" (rule #4) and leave no doubt that, at that moment, your child is the most important person in your world.
• COMMUNICATING: Since yelling parents intimidate, and a calm tone inspires, "When You Get Upset, Whisper" (rule #22) –and make sure your message is heard.
• MANNERS MATTERS: Follow "The Bill Walton Rule," (rule #34) and if you can't be on time, be early.
• NO LOST CHILDREN: When a family or group travels together, obey "The Caboose Rule" (rule #43) by assigning an adult or older child to keep up the rear–and ensure that no little ones lag behind.
• DISCIPLINES AND PUNISHMENTS: "The 10-Second Rule" (rule #49) prescribes the minimum amount of time you should wait before thinking about punishing your child for that D in English.
• PAIN HAPPENS, NOW WHAT?: After your child experiences a little cut, bump, or scrape, say "Squeeze My Hand as Much as It Hurts" (rule #62); it is remarkable how their being able to "show" you will help to ease his or her pain.
• PLAY SPORTS, PERIOD: When your children accomplish something great in their sports, using "The ESPN Rule," (rule #67) tell the story in intimate detail and fill them with the belief that they can do it again and again.
About the Author
Tom Sturges is a mentor, teacher, coach, and volunteer, and the father of two sons, now ages ten and sixteen. He is Executive Vice President and Head of Creative for Universal Music Publishing Group.

Many of the ideas in Parking Lot Rules were nuanced and matured while he mentored a group of 32 at-risk children at a South Central Los Angeles public school. He received commendations from several civic and national leaders for these years of volunteerism and this story will be told in the forthcoming documentary, Witness To A Dream.

Tom also created a learning program that develops creativity in children via the writing of lyrics, melodies and recording the finished songs. Every Idea Is A Good Idea has been an integral element of the MBUSD Gate Program for five of the last six years, reaching more than 360 students. Tom also teaches The Music Business Now at UCLA Extension, a course central to the UCLA-E Music Business Certificate Program.

Sturges, who lives in Manhattan Beach, California, is a golfer, and an inventor and the son of legendary writer & director Preston Sturges. He is also the President of the Los Angeles Chapter of the National Academy Of Recording Arts & Sciences.

Parking Lot Rules & 75 Other Ideas For Raising Amazing Children is his first book.
Praise For Parking Lot Rules & 75 Other Ideas for Raising Amazing Children…
"A well-written, entertaining, and supremely practical guide to leading our kids into adulthood safely and strongly. Even as a so-called parenting expert, I found myself surprised by Sturges's creative solutions and strongly motivated to put them into place in my own home."
--Hal Runkel, family therapist and author of ScreamFree Parenting

"Packed with practical insights, wisdom and fun, Parking Lot Rules hits the bull's eye when it comes to helping our children. Every parent must read it."
--Meg Meeker, M.D., author of Strong Fathers, Strong Daughters

"Tom Sturges has gotten the recipe for parenting just right: five parts love, three parts struggle, two parts humor and a dollop of wisdom. His suggestions for a wide variety of parenting problems are practical and funny. I wish I'd read these rules (especially "Almost Always Skip the First Thing That Comes to Mind") before I'd raised my two children."
--Michael Thompson, Ph.D., co-author of Raising Cain