Time Bandit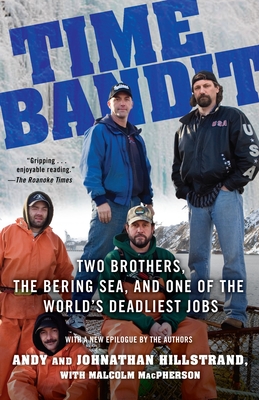 Time Bandit
Two Brothers, the Bering Sea, and One of the World's Deadliest Jobs
Ballantine Books, Paperback, 9780345504128, 240pp.
Publication Date: March 31, 2009
* Individual store prices may vary.
Shop Local
Enter your zip code below to find indies closest to you.
Description
Every Alaskan king crab season, brothers Andy and Johnathan Hillstrand risk their lives and seek their fortunes upon the treacherous waters of the Bering Sea. Sons of a hard-bitten, highly successful fisherman, and born with brine in their blood, the Hillstrand boys couldn't imagine a life without a swaying deck underfoot and a harvest of mighty king crabs waiting to be pulled from the ocean floor. In pursuit of their daily catch, the brothers brave ice floes and heaving waves sixty feet high, the perils of thousand-pound steel traps thrown about by the punishing wind, and the constant menace of the open, hungry water--epitomized in the chorus of a haunting sailors' sing-along: "Many brave hearts are asleep in the deep, so beware, beware."
By turns raucous and reflective, exhilarating and anguished, enthralling, suspenseful, and wise, Time Bandit chronicles a larger-than-life love affair as old as civilization itself--a love affair between striving, willful man and inscrutable, enduring nature.
About the Author
Johnathan Hillstrand shares duties with his brother, Andy, on board their family-operated vessel, the "Time Bandit".

Andy Hillstrand shares duties with his brother, Johnathan, on board their family-operated vessel, the "Time Bandit".

Malcolm MacPherson, a former correspondent for "Time" and "Newsweek", has also worked on the staffs of "New York Magazine" and "Premiere".
Praise For Time Bandit…
"Gripping . . . enjoyable reading."—Roanoke Times

"You know that cool reality-TV show Deadliest Catch? . . . The boat captains featured on the series . . . continue to scare us in this behind-the-scenes book."—Sacramento Bee

"This boys' own adventure is delivered with the irresistible bluster of a fisherman raving to a rescuer about how he has just cheated death . . . again!"—Sydney Morning Herald

"Their first-person accounts matter-of-factly explain what it's like to constantly face death on the Bering Sea and what it does to your life back on land."—Rochester Democrat and Chronicle