The Possibility of Everything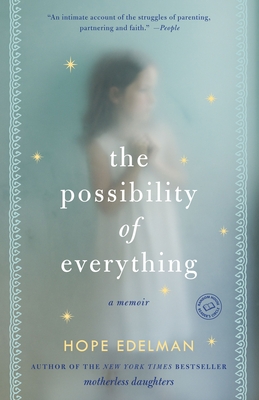 The Possibility of Everything
Ballantine Books, Paperback, 9780345506511, 342pp.
Publication Date: August 31, 2010
* Individual store prices may vary.
Buy Now
or
Shop Local
Enter your zip code below to purchase from an indie close to you.
Description
 
Look for the discussion guide inside


In the autumn of 2000, Hope Edelman was a woman adrift, questioning her marriage, her profession, and her place in the larger world. Feeling vulnerable and isolated, she was primed for change. The Possibility of Everything is the story of the change that found her. A chronicle of her extraordinary leap of faith, it begins when her three-year-old daughter, Maya, starts exhibiting unusual and disruptive behavior. Confused and worried, Edelman and her husband make an unorthodox decision: They take Maya to Belize, suspending disbelief and chasing the promise of an alternative cure. This deeply affecting, beautifully written memoir of a family's emotional journey and a mother's intense love explores what Edelman and her husband went looking for in the jungle and what they ultimately discovered—as parents, as spouses, and as ordinary people—about the things that possess and destroy, or that can heal us all.
 
About the Author
Hope Edelman has a bachelor's degree in journalism from Northwestern University and a master's degree in creative nonfiction writing from the University of Iowa. She is the author of the New York Times bestseller Motherless Daughters and its companion volume, Letters from Motherless Daughters. She lives in Topanga Canyon, California, with her husband and their two daughters.
Praise For The Possibility of Everything…
"Edelman writes eloquently about her struggle… With vivid descriptions of Belize and its Mayan history, The Possibility of Everything is an intimate account of the struggles of parenting, partnering and faith."—People
 
"Part mystery, part travelogue, part memoir, the book explores the gaps between science and faith, children and parents, and what we believe and what we wish for."—Redbook
 
"The Possibility of Everything returns to [Edelman's] theme of mothers and daughters, place and purpose, and chronicles a profound spiritual awakening."—Malibu Times
 
"The true beauty of this book—and there is so much that is beautiful… is that Edelman relentlessly dissects her own perspectives and feelings with an uncommon courage…"—Oregonian
 
"The Possibility of Everything is a well-crafted tale of skepticism versus spirituality… Edelman's writing soars highest when depicting her family's eye-opening encounters in the humid tropical jungle with—just possibly—the supernatural."—Entertainment Weekly
 
"The book… stands as a rich example of memoir writing, much as her previous book Motherless Daughters did." —Albuquerque Journal
 
"Hope Edelman possesses a voice that embeds itself in your mind."—
"On a family trip to Belize, Hope Edelman confronts the very heart of darkness only to be ambushed by the healing hope of things unseen. Edelman writes like a dream and like a dreamer, with a novelist's rhythm and a journalist's unsparing eye. The Possibility of Everything kept me gasping and turning pages, awed by Edelman's unwillingness to compromise the truth. This book makes everything seem possible—except putting it down." —Jacquelyn Mitchard, author, The Deep End of the Ocean (#1 NYT bestseller and Oprah Book Club pick)

"From its gripping opening to its moving conclusion, The Possibility of Everything takes you on a spirited journey that gracefully interweaves details of early motherhood with reflections on faith and transformation, all set against the beauty and wonder of a foreign place. A thoughtful and compelling read by the accomplished Hope Edelman."—Cathi Hanauer, author of Sweet Ruin and editor of The Bitch in the House

"To write memoir well, one must surrender fear and reveal all dimensions of the inner truth—from gorgeous to heinous and what lies in between. In search of faith she can wrap her arms around, Edelman set down fear and has revealed all of herself with beauty and candor, innocence and intelligence, wisdom and clarity. In this fascinating and honest account of a one woman's quest for wholeness and healing for her daughter, herself and her family, Edelman gives us hope."—Jennifer Lauck, author of Still Waters and Blackbird: A Childhood Lost and Found

"Ask any mother: there isn't any role that so consistently demands of us what we know we don't have. Enough patience, enough wisdom, enough energy and grace. The ability to discern between what we can fix and what we can't. Hope Edelman takes her readers on the kind of journey every mother will make—into hope over reason, faith without understanding. Motherless Daughters gave us what no other book did, honesty and solace and companionship from someone who'd been there, too. Readers will say the same of The Possibility of Everything." — Kathryn Harrison, author of The Kiss