Jeff Foxworthy's Complete Redneck Dictionary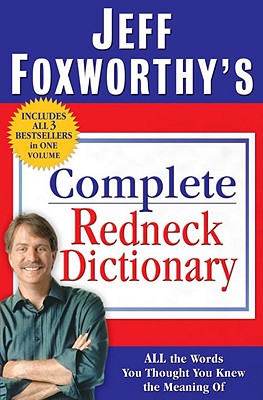 Jeff Foxworthy's Complete Redneck Dictionary
All the Words You Thought You Knew the Meaning of
Villard Books, Hardcover, 9780345507020, 384pp.
Publication Date: November 4, 2008
* Individual store prices may vary.
Buy at Local Store
Enter your zip code below to purchase from an indie close to you.
or
Buy Here
Description
There's no such thing as too much redneck. And it's easy to understand why. A veritable gumbo of indigenous ingenuity, this deliciously distinct dialect rolls off the tongue like drool in the presence of a barbecue sandwich. Now, just in time for no time in particular, Jeff Foxworthy's three bestsellers are rolled into one hilarious redneck reference. This practical, portable A-to-Z crash course will have you laughing and learning your way to flawless southern slang. Say after me:
bay ou (bi-u), v. and n. to purchase for another. I just walked right up to her and said, Hey darlin, lemme bayou a drink.
doo dle (dud-el), n. and v. a male person and his predicted actions. Don t even look at him, cuz that doodle kill you.
tor toise (tort-es), v. and n. to have imparted knowledge or wisdom to a group. That stupid teacher never tortoise nothin .
Whether you re a newbie looking to connect with your inner redneck or a seasoned pro hoping to sharpen your skills, The Complete Redneck Dictionary is the only reference you ll ever need. Picking up Redneck (and this book) has never been easier.
About the Author
Jeff Foxworthy is a New York Times best-selling author and one of the most respected and successful comedians in the country. He is the largest-selling comedy-recording artist in history and is the star and executive producer of the television series Blue Collar TV, which he created for the WB network. His Blue Collar Comedy Tour DVDs have sold more than 5.5 million copies.