Ascension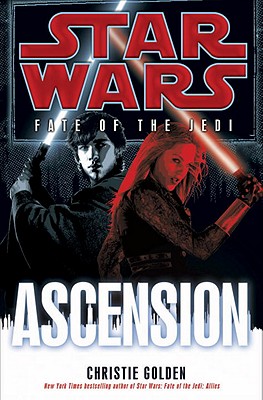 Ascension
Lucas Books, Hardcover, 9780345509161, 410pp.
Publication Date: August 9, 2011
* Individual store prices may vary.
Not Currently Available for Direct Purchase
or
Shop Local
Enter your zip code below to purchase from an indie close to you.
Description
"How long can the Jedi remain in power?"
"How far will the Sith go to rule supreme?"
"What chance do both stand against Abeloth?"
As Luke and Ben Skywalker pursue the formidable dark-side being Abeloth, the Lost Tribe of the Sith is about to be sundered by an even greater power which will thrust one Dark Lord into mortal conflict with his own flesh-and-blood.
On Coruscant, a political vacuum has left tensions at the boiling point, with factions racing to claim control of the Galactic Alliance. Suddenly surrounded by hidden agendas, treacherous conspiracies, and covert Sith agents, the Jedi Order must struggle to keep the GA government from collapsing into anarchy.
The Jedi are committed to maintaining peace and ensuring just rule, but even they are not prepared to take on the combined threats of Sith power, a deposed dictator bent on galaxywide vengeance, and an entity of pure cunning and profound evil hungry to become a god.
About the Author
"New York Times" bestselling and award-winning author Christie Golden has written more than forty novels and several short stories in the fields of science fiction, fantasy, and horror. Among her many projects are over a dozen "Star Trek" novels and several original fantasy novels. An avid player of "World of Warcraft", she has written two manga short stories and several novels in that world ("Lord of the Clans, Rise of the Horde, Arthas: Rise of the Lich King", and "The Shattering: Prelude to Cataclysm", "Thrall: Twilight of the Aspects", and "Jaina Proudmoore: Tides of War"). She has also written the "StarCraft Dark Templar Saga: Firstborn, Shadow Hunters", and "Twilight", as well as the most recent hardcover, "Devils' Due". Golden is also the writer of three books in the major nine-book Star Wars series Fate of the Jedi (in collaboration with Aaron Allston and Troy Denning). Golden lives in Tennessee. She welcomes visitors to her website: ChristieGolden.com.