The Man Who Listens to Horses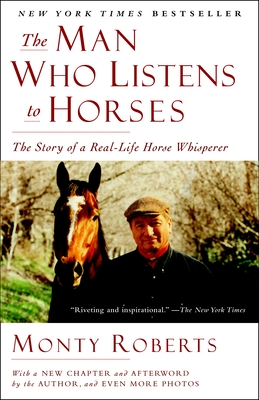 The Man Who Listens to Horses
Ballantine Books, Paperback, 9780345510457, 255pp.
Publication Date: December 30, 2008
* Individual store prices may vary.
Shop Local
Enter your zip code below to find indies closest to you.
Description
Monty Roberts is a real-life horse whisperer-an American original whose gentle Join-Up(R) training method reveals the depth of communication possible between man and animal. He can take a wild, high-strung horse who has never before been handled and persuade that horse to accept a bridle, saddle, and rider in thirty minutes. His powers may seem like magic, but his amazing "horse sense" is based on a lifetime of experience. In "The Man Who Listens to Horses," Roberts reveals his unforgettable personal story and his exceptional insight into nonverbal communication, an understanding that applies to human relationships as well. He shows that between parent and child, employee and employer, abuser and abused, there are forms of communication far stronger than the spoken word that are accessible to all who will learn to listen. This new edition features engaging photographs, a chapter that traces Roberts's amazing experience gentling with a mustang in the wild, and an Afterword about the remarkable impact this book has had on the world.
About the Author
Monty Roberts and his wife, Pat, live in California on their Flag Is Up Farms.
Praise For The Man Who Listens to Horses…
NEW YORK TIMES BESTSELLER

"Riveting and inspirational."
–The New York Times Book Review

"Absorbing . . . engrossing . . . [Monty] Roberts's story is more fascinating and profound than any told in fiction. . . . [The Man Who Listens to Horses is] the kind of life-altering book you never want to finish."
–San Francisco Chronicle

"Observing Monty's philosophy and method of working with horses and people is one of the most profoundly deep, awe-inspiring, and heart-opening experiences I've ever witnessed. I highly recommend this book to everyone."
–Jack Canfield, co-author of the Chicken Soup for the Soul series

"The Man Who Listens to Horses has a style that's every bit as graceful as Roberts's horse-gentling. . . . Roberts's rememberings will touch the hearts of any who ever have known a deep love and respect for an animal."
–Lexington Herald-Leader

"A groundbreaking account . . . All occupants of this earth would be wise to listen to Roberts, who offers a road map to a kinder, gentler place."
–Tulsa World