It Looked Different on the Model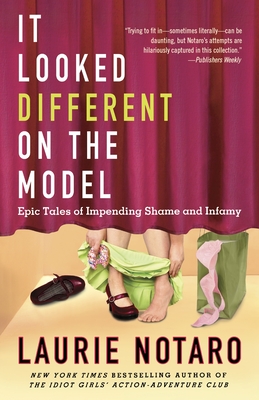 It Looked Different on the Model
Epic Tales of Impending Shame and Infamy
Villard Books, Paperback, 9780345510990, 218pp.
Publication Date: July 26, 2011
* Individual store prices may vary.
Shop Local
Enter your zip code below to find indies closest to you.
Description
#1 "NEW YORK TIMES "BESTSELLER
Everyone's favorite Idiot Girl, Laurie Notaro, is just trying to find the right fit, whether it's in the adorable blouse that looks charming on the mannequin but leaves her in a literal bind or in her neighborhood after she's shamefully exposed at a holiday party by delivering a low-quality rendition of "Jingle Bells." Notaro makes misstep after riotous misstep as she shares tales of marriage and family, including stories about the dog-bark translator that deciphers Notaro's and her husband's own "woofs" a little too accurately, the emails from her mother with "FWD" in the subject line ("which in email code means Forecasting World Destruction"), and the dead-of-night shopping sprees and Devil Dog-devouring monkeyshines of a creature known as "Ambien Laurie." At every turn, Notaro's pluck and irresistible candor set the "New York Times" bestselling author on a journey that's laugh-out-loud funny and utterly unforgettable.
About the Author
Laurie Notaro is the "New York Times" bestselling author of "The Idiot Girls' Action-Adventure Club", "We Thought You Would Be Prettier", "Autobiography of a Fat Bride", and several other books.
Praise For It Looked Different on the Model…
Praise for Laurie Notaro
 
"Laurie Notaro is absolutely hilarious. You never see the jokes coming. They're always organic to her writing, and it makes her a joy to read."—Justin Halpern, author of Sh*t My Dad Says

"If her books don't inspire pants-wetting fits of laughter, then please consult your physician, because, clearly, your funny bone is broken."—Jen Lancaster, author of Pretty in Plaid
 
"Whenever I pick up a book by Laurie Notaro, I know I'll be in a good mood soon. Because Laurie Notaro makes me laugh. Period."—Meg Cabot, author of The Princess Diaries and Overbite
 
"Hilarious, fabulously improper, and completely relatable, Notaro is the queen of funny."—Celia Rivenbark, author of Bless Your Heart, Tramp