The Last Jedi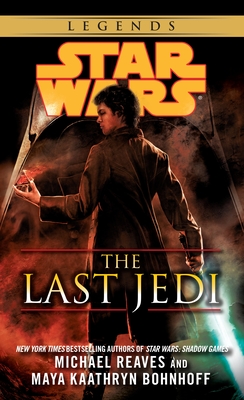 The Last Jedi
Star Wars
Lucas Books, Mass Market Paperbound, 9780345511409, 496pp.
Publication Date: February 26, 2013
* Individual store prices may vary.
Buy Now
or
Shop Local
Enter your zip code below to purchase from an indie close to you.
Description
"NEW YORK TIMES "BESTSELLER
KNIGHT OF RECKONING
The Emperor's ruthless Order 66 has all but exterminated the Jedi. The few remaining who still wield the Force for good have been driven into exile or hiding. But not Jax Pavan, who's been steadily striking blows against the Empire as a lone guerrilla fighter and a valued partner of Whiplash, a secret Coruscant-based resistance group. Now he's taking on his most critical mission: transporting a valued Whiplash leader, targeted for assassination, from Coruscant to safety on a distant world. It's a risky move under any circumstances, but Jax and his trusted crew aboard the "Far Ranger, " including the irrepressible droid I-Five, are prepared to pit their combat skills and their vessel's firepower against all Imperial threats except the one Jax fears most. Reports have raced across the galaxy that the dark lord of the Sith has fallen in a duel to the death with a Rebel freedom fighter. But Jax discovers the chilling truth when he reaches out with the Force . . . only to touch the dark, unmistakable, and malignantly alive presence that is Darth Vader. And Jax knows that Vader will stop at nothing until the last Jedi has fallen.
About the Author
Michael Reaves is an Emmy Award-winning television writer and screenwriter who has written, story edited, or produced nearly four hundred teleplays for various series, including Star Trek: The Next Generation, The Twilight Zone, Sliders, and Monsters. He has published many books, including the New York Times bestseller Star Wars: Darth Maul: Shadow Hunter. He's also written short fiction, comic books, and the dialogue for a Megadeth video. He lives in California.

Hope Schenk-de Michele and Paul Marquez have been best friends for more than four decades. They both grew up in Los Angeles, California, and share a passion for mystery and science fiction. This passion led them to create the forever young and beautiful daughter of darkness, Lucinda. While creating Lucinda's Pawnshop, they co-produced such titles as Bloody Proof and El Grito, a dual language, straight-to-video detective film shot in English and in Spanish. They also produced the 2001 Imagine Awards, 200 episodes of the syndicated home improvement television show Home Magazine, Humphrey the Bear for Galavision, and others. Paul and Hope have also created an exceptionally fun board game called SPIN, SKIN and WIN for the young adult market, and are currently developing it into a television show. To assist in bringing Lucinda's story into the literary world, Hope and Paul enlisted the help of Maya Kaathryn Bohnhoff as a collaborator. Maya is a New York Times best-selling author of science fiction, fantasy, and alternate history, as well as a performing and recording artist with her husband, Jeff. She is the author of more than a dozen novels, including The Last Jedi: Star Wars (Star Wars: Coruscant Nights-Legends) with Michael Reaves (Lucas Books, 2013). Her short fiction has appeared in such magazines as Analog, Interzone, Baen's Universe and Amazing Stories. Maya was a finalist for the John W. Campbell Best First Novel Award in 1990 and is a founding member of Book View Cafe-a publishing collective of professional authors established in 2008 on the theory that you can never have too many books. All three authors reside in California: Marquez in West Hollywood, Schenk-de Michele in Toluca Lake with her husband of twenty-two years, and Bohnhoff with her family in San Jose.