Bubby's Brunch Cookbook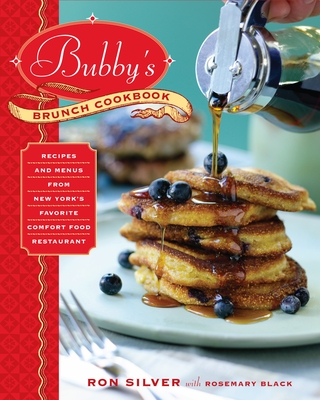 Bubby's Brunch Cookbook
Recipes and Menus from New York's Favorite Comfort Food Restaurant
Ballantine Books, Hardcover, 9780345511638, 309pp.
Publication Date: October 20, 2009
* Individual store prices may vary.
Buy Now
or
Shop Local
Enter your zip code below to purchase from an indie close to you.
Description
Brunch has become America's favorite culinary pastime, a wonderfully appetizing and leisurely dining experience unfettered by either time constraints or choice of entrée–and a ritual so increasingly popular that it's not just for Sundays anymore. And, hands down, no one does it better than Bubby's, the New York City destination restaurant that has been a hangout for hungry city dwellers and celebrities for nearly two decades.

Luckily, you don't need to travel all the way to the Big Apple to savor Bubby's amazing array of brunch favorites. With nearly 200 delicious recipes, Bubby's Brunch Cookbook will help you turn your kitchen into a little piece of heaven. From biscuits to muffins, pancakes to omelets, smoked salmon to hot toddies, there's inspiration here for both beginner and seasoned chefs alike, and the easy-to-follow recipes invariably produce mouthwatering results.

Bubby's owner and chef Ron Silver reveals the secrets behind his signature dishes–German Skillet-Baked Pancakes, Sizzling Ham and Gruyère Omelet, and Blueberry Scones–as well as scrumptious staples–Skillet Hash Browns, Creamy Buttermilk New Potato Salad, and six variations on classic Eggs Benedict. And don't forget Bubby's world famous Sour Cream Pancakes! Of course, no brunch is complete without libations, so Bubby's stirs up tasty original variations on Bloody Marys and Mimosas, as well as freshly squeezed fruit juice combinations, coffees, and other cocktails. Plus, you'll get more than twenty terrific menus for special occasions–New Year's, Easter, Mother's Day, Christmas, birthdays, and more–and creative tips on how to set the ideal table and pull off the perfect brunch, whether for a cozy twosome or a hungry crowd.

Complete with a helping of beautiful colorful photographs, Bubby's Brunch Cookbook is a thoroughly inspiring cookbook that takes brunch to a whole new level.
About the Author
RON SILVER was cooking breakfasts at New York City's Restaurant Florent when he became obsessed with baking pies. In 1990, he launched Bubby's Pie Company, and it soon became a beloved downtown institution. Ron opened a Brooklyn branch of Bubby's in 2003.

Rosemary Black is Associate Professor at Charles Sturt University, Australia. Her research focuses on tour guiding, visitor communication, sustainability, environmental education and heritage interpretation.
Praise For Bubby's Brunch Cookbook…
"Bubby's is a Tribeca landmark." –Robert DeNiro

"Bubby's to me is like that one dear old friend that you look forward to spending time with every day, and they just happen to make the best Huevos Rancheros in town." –Harvey Keitel

"Being fans of Bubby's for years, it's good to know now we can stay home and cook Bubby's food in the comfort of our pajamas. The kids will be happy they get those pancakes at home!" –Ed Burns

"When we want a home-cooked breakfast, my family loves their Bubby' s." –Edie Falco

"Brunch at Bubby's is a great New York City tradition. I love a good home-cooked meal, and they serve it with the warmth of a friendly neighbor." –Drew Nieporent, owner, Tribeca Grill, Corton, Nobu, Centrico, Mai House

"Silver, owner of the TriBeCa restaurant Bubby's and author of Bubby's Homemade Pies, proves that brunch isn't just for Sundays anymore. He includes more than 20 special-occasion menu ideas and organizes his recipes into sections on baked treats, eggs, sandwiches and salads, and more. While there are many brunch cookbooks on the market, this one stands out with the variety of dishes presented. With helpful, practical advice for novice and seasoned cooks, plus history of the recipes."—Library Journal

"Brunch is a homey extravaganza in the hands of Silver, chef at downtown Manhattan's landmark café and celeb hangout Bubby's: blueberry johnnycakes, Cajun omelets, orange chocolate chip muffins. Skip the weekend wait for a table and whip these up in your own kitchen." —People

"Brunch is clearly Silver's passion. Not only does he reveal the secrets to his signature [dishes], he takes much of the stress out of entertaining by offering 25 brunch menus. Silver keeps his recipes simple enough that cooks can easily duplicate them at home." —Houston Chronicle

"The nearly 200 recipes are organized so it's easy to mix and match favorites and tailor your menu….The book is full of simple, traditional foods that are easy to make and may leave you nostalgic for simpler times." —Modesto Bee

"The instructions are very detailed, making this a good cookbook for a novice cook."—Eugene Register-Guard