Jane Bites Back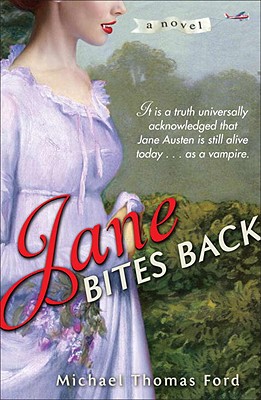 Jane Bites Back
Ballantine Books, Paperback, 9780345513656, 299pp.
Publication Date: December 29, 2009
* Individual store prices may vary.
Buy Now
or
Shop Local
Enter your zip code below to purchase from an indie close to you.
Description
Two hundred years after her death, Jane Austen is still surrounded by the literature she loves but now it's because she's the owner of Flyleaf Books in a sleepy college town in Upstate New York. Every day she watches her novels fly off the shelves along with dozens of unauthorized sequels, spin-offs, and adaptations. Jane may be undead, but her books have taken on a life of their own.
To make matters worse, the manuscript she finished just before being turned into a vampire has been rejected by publishers 116 times. Jane longs to let the world know who she is, but when a sudden twist of fate thrusts her back into the spotlight, she must hide her real identity and fend off a dark man from her past while juggling two modern suitors. Will the inimitable Jane Austen be able to keep her cool in this comedy of manners, or will she show everyone what a woman with a sharp wit and an even sharper set of fangs can do?
About the Author
Michael Thomas Ford is the author of the teen novel Suicide Notes as well as several essay collections and adult novels, including Jane Bites Back. He lives in San Francisco with his partner and their five dogs.
Praise For Jane Bites Back…
"A hilarious send-up of vampire novels, the Austen industry, and one immortal author's complete inability to find a publisher—Jane would have loved it!"—Stephanie Barron, author of the Jane Austen mysteries

"It's impossible not to love Ford's sharp-witted, sharp-fanged Jane Austen (and I'm not just saying that because she spares my life in Chapter Six)."—Seth Grahame-Smith, author of Pride and Prejudice and Zombies

"Fang-tastic …Ford's Jane is a very fun and funny heroine to root for as she endures the indignities of publishing and bookselling, fends off danger and (perhaps) finds love. Her hilarious smack downs with Violet hint of more madness to come in this first of a series."—Publishers Weekly
 
"Ford approvingly cites Seth Grahame-Smith's Pride and Prejudice and Zombies, but his own mashup is better integrated, more knowledgeable about Austen and considerably funnier."—Kirkus Reviews
 
"In this clever paranormal tale…Ford has created warm, witty characters that will appeal to both Janeites and vampire fanciers. Literary humor and intriguing snippets from Jane's book are the icing on the cake. Two more books are promised in this series, so readers who fall under Jane's spell will be eagerly awaiting her next adventure."—Library Journal
 
"Michael Thomas Ford has struck gold….The plot is inventive and funny, and the story progresses with the kind of light touch that compares favorably to the…Stephanie Meyer Twilight series. Ford manages to strike just the right tone…and consistently delights."—Bay Area Reporter
 
"Few authors can deliver [Austen's] dry, deft and wickedly funny style. Michael Thomas Ford is one of them….Light, campy and a bit Buffyish….The literary and historical references really shine."—Austenprose
 
"Ford gives us an authentic, sympathetic and witty Jane Austen as a modern-day vampire….An inventive mashup plot coupled with creative storytelling and amusing dialogue make this story a delightful read."—Romantic Times
 
"Hilarious….I thoroughly enjoyed reading this book and know you will too!"—Vampire Librarian
 
"Such a fun read. I especially love to imagine Austen duking it out with fellow literary blood-suckers, both literal and figurative."—Book Bitch
 
"I must admit I started this story prepared to dislike it (too many Jane related novels), and then found I was enjoying it! It has a little bit of something for everyone. You will enjoy it, too."—Romance Reviews Today
 
"A rollicking good read."—Dirty Laundry
 
"A confection of a novel."—The Advocate
 
"In the past year, I have read quite a few Jane Austen spin-offs, but none quite as original as Jane Bites Back by Michael Thomas Ford….Incredibly readable, extremely funny, and highly entertaining."—Booking Mama
 
"FIVE STARS!"—Huntress Reviews