Jane Goes Batty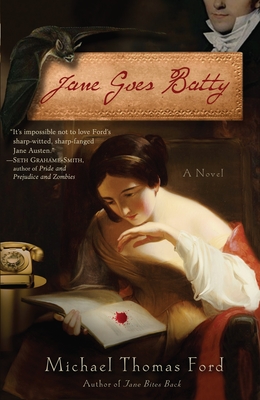 Jane Goes Batty
Ballantine Books, Paperback, 9780345513663, 295pp.
Publication Date: February 1, 2011
* Individual store prices may vary.
Buy Now
or
Shop Local
Enter your zip code below to purchase from an indie close to you.
Description
After two hundred years undead, Jane Austen still has bite. But will her most recent literary success be her last?
Life was a lot easier for Jane when she was just an unknown, undead bookstore owner in a sleepy hamlet in upstate New York. But now the world embraces her as Jane Fairfax, author of the bestselling novel "Constance"--and she's having a killer time trying to keep her true identity as "the" Jane Austen a secret. Even the ongoing lessons in How to Be a Vampire, taught by her former lover Lord Byron, don't seem to be helping much. Jane can barely focus on her boyfriend, Walter, while keeping him in the dark about her more sanguine tastes.
To make matters worse, Walter announces that his mother is coming for a visit--and she's expecting Jane to be Jewish. Add in a demanding new editor, a convention of romance readers in period costume, a Hollywood camera crew following Jane's every move, and the constant threat of a certain bloodsucking BrontE sister coming back to finish her off, and it's enough to make even the most well-mannered heroine go batty.
About the Author
Michael Thomas Ford is the author of the teen novel Suicide Notes as well as several essay collections and adult novels, including Jane Bites Back. He lives in San Francisco with his partner and their five dogs.
Praise For Jane Goes Batty…
"A rollicking second installment in the adventures of Jane Austen, vampire…Less Pride and Prejudice than True Blood—not that there's anything wrong with that—and a witty demonstration of how beautifully the dilemmas of being Jane Austen and a vampire can comport with the tropes of chick lit. You'll thirst for the conclusion of the trilogy."—Kirkus Reviews

"It's impossible not to love Ford's sharp-witted, sharp-fanged Jane Austen."—Seth Grahame-Smith, author of Pride and Prejudice and Zombies

"Ford's follow-up to the acclaimed Jane Bites Back doesn't just provide another chance to hang out with one of the most likable vampires ever created; there are also unexpected plot twists to keep readers engaged to the end. Verdict: References to classic and contemporary books will appeal to bibliophiles, pop culture asides will catch trend watchers, and classic physical comedy scenes could make anyone chuckle."--Library Journal 

"Jane Goes Batty really does have a little something for everyone. I think fans of Jane Austen as well as readers who enjoy mysteries and witty writing will enjoy this novel as much as I did."--Booking Mama

"Filled with sly humor and fast-paced quips, this delightful romp sees Jane and Byron solving an unexpected murder while an old adversary makes a startling comeback. In a tale that unfolds with panache and elan, Ford's Jane is as lovely and as ladylike as ever, her vital spirit a perfect reflection of literary heroine chic."--Curled Up With A Good Book

"Ford delivers an original take with a sharp and well-formed wit. I found myself laughing and groaning in no time at all."--January Magazine

"This book works, and not because I am a big fan of the mashup genre--vampires, zombies, werewolves--Oh My!...[Jane Goes Batty is] funny.  I was laughing out loud while reading it and that's a rare treat."--Jane Austen Addict

"Michael Thomas Ford is a wicked wit with a scoop of irony on top; a devilish combination that Austen whipped up and has been wowing us with for centuries."--Austenprose

"A hilarious romp...This book is definitely worth picking up and reading and I can't wait to read the third installment in this building series."--The Obsessive Book Worm

"A funny, smart, well-crafted book that will keep you glued to the pages and chuckling at Jane's adventures, or should I say misadventures...This book has a little bit for everyone.  If you like the classics, you'll enjoy the references.  If you like physical comedy, you won't be disappointed.  And, if you're enjoying the rapid rise of the vampire genre, Jane Goes Batty is your cherry on the top.  Pick up your copy today."--Romance Reviews Today

"Hilarity and hi-jinks ensue in a series that will have Jane Austen rolling in her grave… with laughter...[Jane Goes Batty is] the kind of book you can start reading late at night and fight off sleep just so you can keep reading...I highly recommend this book and its prequel. It will have you dying to meet your favourite authors."--Bibliomantics

"This romance mystery, this rollicking, witty, good time of a read ends like all Austin novels—the heroine defies the odds and finds true love. Fabulously fang-tastic!"--Out Smart

"I loved the humor and the drama. It's just very clever. I especially liked the scenes about the movie. How it is being "adapted." I loved the references to Twilight too! Very funny! It's just great fun to read these books!"--Becky's Book Reviews

"A fun, humorous weekend read!..It [made] me laugh out loud. Ford does a fantastic job capturing the spirit of Jane Austen."--Vamp Chix

"It's a shitstorm of ideas across multiple genres, but at least Ford's tongue is planted in his cheek (someone is spied wearing a Team Edward T-shirt). The book's chirpy tone owes more to Pride and Prejudice and Zombies, the first of this brand of mash-up, than to either Emma or Dracula. 4 stars."--Time Out New York

Praise for Michael Thomas Ford's Jane Bites Back

"A delightful read . . . Ford gives us an authentic, sympathetic and witty Jane Austen as a modern-day vampire."—Romantic Times
 
"Fang-tastic."—Publishers Weekly
 
"Wickedly funny . . . The literary and historical references really shine."—Austenprose
 
"Cool, wittily acerbic."—The Boston Globe
 
"Clever . . . warm, witty characters that will appeal to both Janeites and vampire fanciers."—Library Journal