Death of a Stranger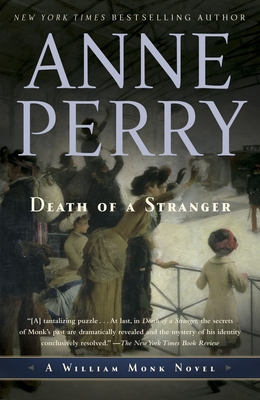 Death of a Stranger
A William Monk Novel
Ballantine Books, Paperback, 9780345514165, 352pp.
Publication Date: September 28, 2010
* Individual store prices may vary.
Buy Now
or
Shop Local
Enter your zip code below to purchase from an indie close to you.
Description
Few authors have written more mesmerizingly about Victorian London than Anne Perry. Readers enter her world with exquisite anticipation, and experience a rich variety of characters and class: aristocrats living in luxury, flower sellers on street corners, ladies of the evening seeking customers on gaslit streets, gentlemen in hansom cabs en route to erotic diversions unknown in their Mayfair mansions. Now Perry gives her myriad fans the book they ve been waiting for the novel in which William Monk breaks through the wall of amnesia and discovers at last who he once was.
DEATH OF A STRANGER
For the prostitutes of Leather Lane, nurse Hester Monk's clinic is a lifeline, providing medicine, food, and a modicum of peace especially welcome since lately their ailments have escalated from bruises and fevers to broken bones and knife wounds. At the moment, however, the mysterious death of railway magnate Nolan Baltimore in a sleazy neighborhood brothel overshadows all else. Whether he fell or was pushed, the shocking question in everyone's mind is: What was such a pillar of respectability doing in a seedy place of sin?
Meanwhile, brilliant private investigator William Monk acquires a new client, a mysterious beauty who asks him to ascertain beyond a shadow of a doubt whether or not her fiance, an executive in Nolan Baltimore's thriving railway firm, has become enmeshed in fraudulent practices that could ruin him.
As Hester ventures into violent streets to learn who is responsible for the brutal abuse of her patients, Monk embarks upon a journey into the English countryside, where the last rails are being laid for a new line. But the sight of tracks stretching into the distance revives memories once stripped from his consciousness by amnesia as a past almost impossible to bear returns, eerily paralleling a fresh tragedy that has already begun its inexorable unfolding.
About the Author
Anne Perry is the bestselling author of two acclaimed series set in Victorian England: the Charlotte and Thomas Pitt novels, including Buckingham Palace Gardens and Long Spoon Lane, and the William Monk novels, including Execution Dock and Dark Assassin. She is also the author of a series of five World War I novels, as well as seven holiday novels, most recently A Christmas Odyssey, and a historical novel, The Sheen on the Silk, set in the Ottoman Empire. Anne Perry lives in Scotland.
Praise For Death of a Stranger…
"Few mystery writers this side of Arthur Conan Doyle can evoke Victorian London with such relish for detail and mood."
–San Francisco Chronicle

"Perry can write a Victorian mystery that would make Dickens's eyes pop."
–The New York Times Book Review



From the Paperback edition.