The New Good Life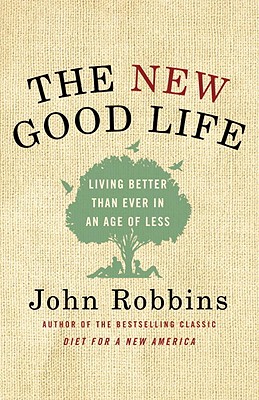 The New Good Life
Living Better Than Ever in an Age of Less
Ballantine Books, Hardcover, 9780345519849, 304pp.
Publication Date: May 25, 2010
* Individual store prices may vary.
Buy at Local Store
Enter your zip code below to purchase from an indie close to you.
or
Not Currently Available for Direct Purchase
Description
How do you define the good life? For many, success is measured not by health and happiness but by financial wealth. But such a worldview overlooks the important things in life: personal contentment, family time, spirituality, and the health of the planet and those living on it. A preoccupation with money and possessions is not only unhealthy, it can also drain the true joy from life.
In recent years, millions have watched their American Dreams go up in smoke. The international financial collapse, inflation, massive layoffs, and burgeoning consumer debt have left people in dire financial straits including John Robbins, a crusader for planet-friendly food and lifestyle choices, who lost his entire savings in an investment scam. But Robbins soon realized that there was an upside to our collective financial downturn: Curtailed consumerism could lead us to reassess our lives and values.
The New Good Life provides a philosophical and prescriptive path from conspicuous consumption to conscious consumption. Where the old view of success was measured by cash, stocks, and various luxuries, the new view will be guided by financial restraint and a new awareness of what truly matters. A passionate manifesto on finding meaning beyond money and status, this book delivers a sound blueprint for living well on less. Discover how to
create your own definition of success based on your deepest beliefs and life experience
alleviate depression, lower blood pressure, and stay fit with inexpensive alternatives for high-cost medications
develop a diet that promotes better health and saves you money
plan for and protect yourself from future economic catastrophes
cut down on your housing and transportation costs
live frugally without deprivation
follow in the footsteps of real people who have effectively forged new financial identities
The New Good Life provides much-needed hope and comfort in a time of fear and uncertainty. Here is everything you need to develop high-joy, low-cost solutions to life's challenges. Practical and timely, this book equips you with the skills needed not only to survive but to thrive in these challenging times.

About the Author
John Robbins is the author of THE FOOD REVOLUTION -- How Your Diet Can Help Save Your Life and Our World. He is also author of the international bestseller DIET FOR A NEW AMERICA -- How Your Food Choices Affect Your Health, Happiness, and the Future of Life on Earth, THE AWAKENED HEART -- Meditations on Finding Harmony in a Changing World, and the widely acclaimed RECLAIMING OUR HEALTH -- Exploding the Medical Myth and Embracing the Source of True Healing. Widely considered to be one of the world's leading experts on the dietary link with the environment and health, Johnas work has been the subject of cover stories and feature articles in The San Francisco Chronicle, The Los Angeles Times, Chicago Life, The Washington Post, The New York Times, The Philadelphia Inquirer, and many of the nation's other major newspapers and magazines. His life and work have also been featured in an hour long PBS special titled Diet For A New America. The only son of the founder of the Baskin-Robbins ice cream empire, John Robbins was groomed to follow in his fatheras footsteps, but chose to walk away from Baskin-Robbins and the immense wealth it represented to ."..pursue the deeper American Dream...the dream of a society at peace with its conscience because it respects and lives in harmony with all life forms. A dream of a society that is truly healthy, practicing a wise and compassionate stewardship of a balanced ecosystem."
Praise For The New Good Life…
"There is today a profound hunger for precisely the information, the advice, and the perspectives in The New Good Life. I can think of few people with the authority to speak about the benefits of a leaner, wiser, healthier way of living. The literature on frugal, simple, conscious living is extensive—now and throughout the American story—but John Robbins brings so many unique talents and perspectives that his book is sure to be a bestseller and a best-loved resource."—Vicki Robin, co-author of Your Money or Your Life