Bloodshot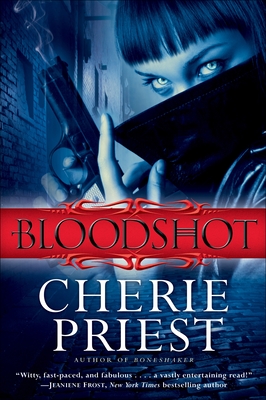 Bloodshot
Spectra Books, Paperback, 9780345520609, 359pp.
Publication Date: January 25, 2011
* Individual store prices may vary.
Buy Now
or
Shop Local
Enter your zip code below to purchase from an indie close to you.
Description
VAMPIRE FOR HIRE
Raylene Pendle (AKA Cheshire Red), a vampire and world-renowned thief, doesn t usually hang with her own kind. She's too busy stealing priceless art and rare jewels. But when the infuriatingly charming Ian Stott asks for help, Raylene finds him impossible to resist even though Ian doesn t want precious artifacts. He wants her to retrieve missing government files documents that deal with the secret biological experiments that left Ian blind. What Raylene doesn t bargain for is a case that takes her from the wilds of Minneapolis to the mean streets of Atlanta. And with a psychotic, power-hungry scientist on her trail, a kick-ass drag queen on her side, and Men in Black popping up at the most inconvenient moments, the case proves to be one hell of a ride.
About the Author
Cherie Priest debuted to great acclaim with "Four and Twenty Blackbirds", "Wings to the Kingdom", and "Not Flesh Nor Feathers", a trilogy of Southern Gothic ghost stories featuring heroine Eden Moore. She is also the author of "Fathom", "Dreadnought", and "Boneshaker", which was nominated for a Nebula and Hugo Award and won the PNBA Award and the Locus Award for best science-fiction novel. She is an associate editor at Subterranean Press. Born in Tampa, Florida, Priest went to college at Southern Adventist University and earned her master s in rhetoric at the University of Tennessee. After spending most of her life in the southern United States, she recently moved to Seattle, Washington, with her husband, Aric, and a fat black cat named Spain.
Praise For Bloodshot…
Praise for Bloodshot:

"Even if you've been experiencing some vampire fatigue lately, Cherie Priest's smart-mouth, sticky-fingered protagonist is still worth spending 350 pages with. Instead of trying to reinvent the vampire genre, Priest just gives it new life and potency…This book only needs one thing to be fantastic, and that's Raylene's voice. There's an entertainingly aggressive wackiness about her… She's witty and sharp and excellently lecherous." — io9

"Witty, fast-paced, and fabulous, Bloodshot is a refreshing addition to the urban fantasy genre. Priest's darkly hilarious tale will leave readers anxious for more adventures with the charmingly neurotic Raylene and her unlikely entourage. A vastly entertaining read!" — Jeaniene Frost, New York Times bestselling author of this Side of the Grave

"A 100-year-old vampire thief runs afoul of secret biological experimenters—first of an urban fantasy series from the versatile author of Boneshaker…Brutally unsentimental narrator Raylene…makes a quirky and charming if bloodthirsty host.  A refreshing and addictive lure for readers uninterested in fangs, bats, capes and hissing." — Kirkus, starred review

"Steampunk and gothic author Priest dives into urban fantasy with this entertaining conspiracy thriller…Raylene's breezy, first-person voice and quirky views on life add plenty of bite to the story." — Publishers Weekly

"Priest writes a fast-paced mix of caper novel and thriller that features realistically flawed characters. Plenty of action and a fairly high body count (mostly bad guys) make this a good suggestion for fans of Christopher Farnsworth's Blood Oath and other crime readers who don't mind a few vampires." — Booklist

"Priest at her strongest, combining action with a few laughs and a razor-sharp wit…I heartily enjoyed this one…Cherie Priest is one of the freshest and most original voices on the shelves today.  Bloodshot, which begins a new series, is the perfect introduction to this smart and sassy writer.  I'll be eagerly waiting for the next Raylene story." — Owlcat Mountain Reviews

"With Bloodshot, Priest catapults the kick-ass urban fantasy heroine into the realm of the truly bad-ass. Raylene's  fascinating mix of the old ultra-violence with snark and self-deprecation had me riveted. The combination of such an interesting character with a plot that continually out-thunk me makes Bloodshot one of my favorite reads this year." — Nicole Peeler, author of Tempest's Legacy

"Cherie Priest's urban fantasy debut is a fun, fast-paced adventure with a dash of romance and a heaping scoop of conspiracy. I'm looking forward to more, especially if Sister Rose is onstage." — Lucy Snyder, author of Shotgun Sorceress

"Bloodshot is, hands down, my favorite Urban Fantasy book of 2010. By turns frightening, funny, and fabulous, it was a joy to read and damn near impossible to put down. It's a ton of fun, brim-full of Cherie's wonderful, quirky voice and deliciously twisted imagination.  More, please!" — Kat Richardson, author of Labyrinth

"Cherie Priest delivers a fantastic urban fantasy that takes us back to the genre's noir roots and proves there's still new blood to be found in old tropes.  The engrossing, complex mystery and smart, refreshing heroine makes this one a must-read for genre fans!" — Kelly Meding, author of Another Kind of Dead

"Cherie Priest's Bloodshot is fun from start to finish. A new, unique take on vampires coupled with Priest's excellent writing makes for something very special. True quality always shows, and Bloodshot definitely shows it. I loved it!"—Stacia Kane, author of Unholy Ghosts

"Wickedly sharp plotting and unforgettable characters make this a standout book.  Priest's novels are a must-read if you like your vampires with fangs." — Caitlin Kittredge, author of Bone Gods


Praise for Cherie Priest's Boneshaker
 
"A steampunk-zombie-airship adventure of rollicking pace and sweeping proportions . . . this book is made of irresistible."—Scott Westerfeld
 
"Should be sought out by readers of fantasy and horror alike."—Chiaroscuro
 
"One of 2009's best novels . . . .is not to be missed."—Joe Sherry, Fantasy Magazine