Transformers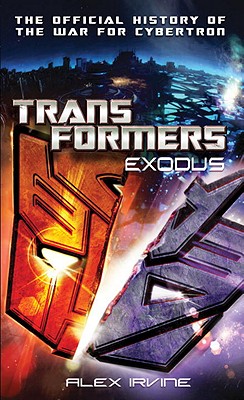 Transformers
Exodus: The Official History of the War for Cybertron
Del Rey Books, Mass Market Paperbound, 9780345522528, 347pp.
Publication Date: June 28, 2011
* Individual store prices may vary.
Buy at Local Store
Enter your zip code below to purchase from an indie close to you.
or
Buy Here
Description
For twenty-five years the colossal battle between Megatron and Optimus Prime has captivated Transformers fans around the world. Now, for the first time, here is the thrilling saga of Optimus and Megatron before they were enemies, before they arrived on Earth, before they even knew each other.

On the caste-bound planet of Cybertron, Megatron, an undefeated gladiator, gives voice to the unspoken longings of the oppressed masses--and opens the mind of Orion Pax, an insignificant data clerk who will become Optimus Prime. What happens between Orion Pax and Megatron forever changes the destiny of all Transformers. This gripping, action-packed novel reveals all the loyalties and treacheries, trust and betrayals, deadly violence and shining ideals, as well as the pivotal roles played by other well-known characters.
Discover how meek disciple Orion Pax becomes the fearless leader Optimus Prime; follow the tantalizing clues about the lost Matrix of Leadership and the lore surrounding it; find out why the two allies fighting a corrupt regime suddenly turn on each other, and what triggers their epic war. Transformers: Exodus provides everything fans ever wanted to know about one of the fiercest rivalries of all time.
Transformers (c) 2011 Hasbro Inc. HASBRO and its logo, TRANSFORMERS and all related characters, are trademarks of Hasbro and are used with permission.
About the Author
Alex Irvine's novels include Buyout, The Narrows, A Scattering of Jades, and the novelization of the film Iron Man 2. He also is the author of nonfiction books including The Vertigo Encyclopedia and John Winchester's Journal, as well as the comic series Daredevil Noir and Hellstorm, Son of Satan: Equinox. A past winner of the Locus, Crawford, and International Horror Guild awards, he teaches at the University of Maine.
Praise For Transformers…
Transformers: Exodus is precisely the origin story that the franchise needed. It's entertaining, filled with
the sort of epic battles Transformers lend themselves to, and keeps the reader breathless with anticipation
even though we already know how it ends.  [I]n the framework of a political revolution and
the civil war that overthrows a system that had practically calcified, there are terrible fights, friendships
made and broken, and the beginnings of a genuine epic; above all, it's fun to read.  —Booklist