The Daylight War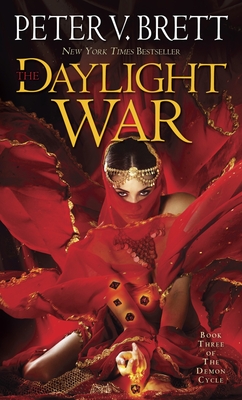 The Daylight War
Del Rey Books, Mass Market Paperbound, 9780345524157, 688pp.
Publication Date: September 24, 2013
* Individual store prices may vary.
Buy at Local Store
Enter your zip code below to purchase from an indie close to you.
or
Buy Here
Description
"NEW YORK TIMES" BESTSELLER
With "The Warded Man" and "The Desert Spear, " Peter V. Brett surged to the front rank of contemporary fantasy, standing alongside giants in the field such as George R. R. Martin, Robert Jordan, and Terry Brooks. "The Daylight War, " the eagerly anticipated third volume in Brett's internationally bestselling Demon Cycle, continues the epic tale of humanity's last stand against an army of demons that rise each night to prey on mankind.
On the night of the new moon, the demons rise in force, seeking the deaths of two men, both of whom have the potential to become the fabled Deliverer, the man prophesied to reunite the scattered remnants of humanity in a final push to destroy the demon corelings once and for all.
Arlen Bales was once an ordinary man, but now he has become something more the Warded Man, tattooed with eldritch wards so powerful they make him a match for any demon. Arlen denies he is the Deliverer at every turn, but the more he tries to be one with the common folk, the more fervently they believe. Many would follow him, but Arlen's path threatens to lead to a dark place he alone can travel to, and from which there may be no returning.
The only one with hope of keeping Arlen in the world of men, or joining him in his descent into the world of demons, is Renna Tanner, a fierce young woman in danger of losing herself to the power of demon magic.
Ahmann Jardir has forged the warlike desert tribes of Krasia into a demon-killing army and proclaimed himself Shar Dama Ka, the Deliverer. He carries ancient weapons a spear and a crown that give credence to his claim, and already vast swaths of the green lands bow to his control.
But Jardir did not come to power on his own. His rise was engineered by his First Wife, Inevera, a cunning and powerful priestess whose formidable demon bone magic gives her the ability to glimpse the future. Inevera's motives and past are shrouded in mystery, and even Jardir does not entirely trust her.
Once Arlen and Jardir were as close as brothers. Now they are the bitterest of rivals. As humanity's enemies rise, the only two men capable of defeating them are divided against each other by the most deadly demons of all those lurking in the human heart.
Praise for "The Daylight War"
Peter V. Brett is] at the top of his game. I give this my highest recommendation. Tor.com
Brett] confirms his place among epic fantasy's pantheon of greats amid the likes of George R. R. Martin, Steven Erikson, and Robert Jordan. Fantasy Book Critic
Brett's prose and flow remain virtually flawless, providing for a smooth read during which you don t feel guilty for skipping two meals so you can lie on the couch and keep reading. Fixed on Fantasy
The best book yet in The Demon Cycle. If you are looking for a great series, look no further. Roqoo Depot
After the phenomenal success of both "The Warded Man "and" The Desert Spear, " I was tentative about "The Daylight War; "surely it couldn t get much better? Well, I was wrong. . . . This will be a strong contender for one of the best books of the year, even this early on. Jet Black Ink
Brett has his hooks in me and I want more of The Demon Cycle. BestFantasyBooks.com
"From the Hardcover edition.
About the Author
Peter V. Brett (- Peat - pour ses amis) imagine des recits de Fantasy depuis toujours. L'Homme-rune est son premier roman et deja un classique mondial au succes foudroyant. Immediatement passionnant et unique en son genre, il est riche d'emotions universelles, de personnages inoubliables, et d'une intrigue impossible a lacher.
Praise For The Daylight War…
"[Peter V. Brett is] at the top of his game. I give this my highest recommendation."—Tor.com
 
"[Brett] confirms his place among epic fantasy's pantheon of greats amid the likes of George R. R. Martin, Steven Erikson, and Robert Jordan."—Fantasy Book Critic
 
"Brett's prose and flow remain virtually flawless, providing for a smooth read during which you don't feel guilty for skipping two meals so you can lie on the couch and keep reading."—Fixed on Fantasy
 
"The best book yet in The Demon Cycle. If you are looking for a great series, look no further."—Roqoo Depot
 
"After the phenomenal success of both The Warded Man and The Desert Spear, I was tentative about The Daylight War; surely it couldn't get much better? Well, I was wrong. . . . This will be a strong contender for one of the best books of the year, even this early on."—Jet Black Ink
 
"Brett has his hooks in me and I want more of The Demon Cycle."—BestFantasyBooks.com