Two Fronts (the War That Came Early, Book Five)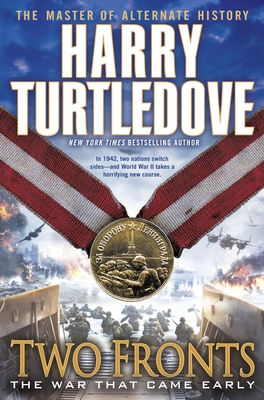 Two Fronts (the War That Came Early, Book Five)
Del Rey Books, Paperback, 9780345524690, 432pp.
Publication Date: June 17, 2014
* Individual store prices may vary.
Buy at Local Store
Enter your zip code below to purchase from an indie close to you.
or
Buy Here
Description
In 1942, two nations switch sides—and World War II takes a horrifying new course.
 
In the real world, England and France allowed Adolf Hitler to gobble up the Sudetenland in 1938. Once Hitler finished dismembering Czechoslovakia, he was ready to go to war over Poland a year later. But Hitler had always been eager to seize Czechoslovakia, no matter the consequences. So what if England and France had stood up to the Nazis from the start, and not eleven months later? That is the question behind the War That Came Early series.
 
Four years later, the civil war in Spain drags on, even after General Franco's death. The United States, still neutral in Europe, fights the Japanese in the Pacific. Russia and Germany go toe-to-toe in Eastern Europe—yet while Hitler stares east, not everything behind him is going as well as he would like. But nothing feeds ingenuity like the fear of losing. The Germans wheel out new tanks and planes, Japan deploys weapons of a very different sort against China, and the United States, England, and France do what they can to strengthen themselves against imminent danger.
 
Seen through the eyes of ordinary citizens caught in the maelstrom, this is a you-are-there chronicle of battle on land and sea and in the air. Here are terrifying bombing raids that shatter homes, businesses, and the rule of law. Here are commanders issuing orders that, once given, cannot be taken back. And here are the seeds of rebellion sown in blood-soaked soil.
 
In a war in which sides are switched and allies trust one another only slightly more than they trust their mortal enemies, Nazi Germany has yet to send its Jews to death camps, and dangerous new nationalist powers arise in Eastern Europe. From thrilling submarine battles to the horror of men fighting men and machines all through Europe, Two Fronts captures every aspect of a brilliantly reimagined conflict: the strategic, the political, and the personal force of leaders bending nations to their wills.

Praise for Two Fronts
 
"[Harry] Turtledove has another major twist in store for the readers and his alternative world."—SF Site
 
"Turtledove's new variation on the theme of WWII is departing more and more from the original, sometimes in subtle ways and sometimes in less subtle ones. . . . What's next is anybody's guess, except that it will almost certainly be more surprises."—Booklist

"Turtledove is the standard-bearer for alternate history."—USA Today
 
Praise for Harry Turtledove
 
"If you like alternate histories, you're going to like this series a lot."—The San Diego Union-Tribune
 
"Turtledove is the standard-bearer for alternate history."—USA Today
About the Author
The author of many SF and fantasy novels, including "The Guns of the South", the "World War" series, and "The Case of the Toxic Spell Dump", Harry Turtledove lives in Los Angeles with his wife, novelist Laura Frankos, and their four daughters.
Praise For Two Fronts (the War That Came Early, Book Five)…
Praise for Two Fronts
 
"[Harry] Turtledove has another major twist in store for the readers and his alternative world."—SF Site
 
"Turtledove's new variation on the theme of WWII is departing more and more from the original, sometimes in subtle ways and sometimes in less subtle ones. . . . What's next is anybody's guess, except that it will almost certainly be more surprises."—Booklist
           
"Turtledove is the standard-bearer for alternate history."—USA Today

Praise for Harry Turtledove
 
"If you like alternate histories, you're going to like this series a lot."—The San Diego Union-Tribune
 
"Turtledove is the standard-bearer for alternate history."—USA Today
 
Coup d'Etat
 
"This is what alternative history is all about."—Historical Novel Society
 
The Big Switch
 
"The Hugo Award winner continues to delight in exploring the world of 'what if?'"—Library Journal
 
West and East
 
"There's plenty to satisfy fans of military strategy, tactics, and armaments."—Publishers Weekly
 
Hitler's War
 
"Turtledove is always good, but this return to World War II . . . is genuinely brilliant. . . . The characterizations in particular bring the book to extraordinary life."—Booklist