The Strawberry Letter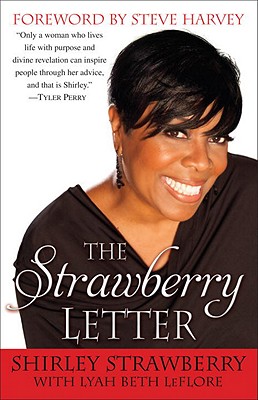 The Strawberry Letter
Real Talk, Real Advice, Because Bitterness Isn't Sexy
One World, Paperback, 9780345525512, 161pp.
Publication Date: February 14, 2012
* Individual store prices may vary.
Shop Local
Enter your zip code below to find indies closest to you.
Description
Listen up, ladies Shirley Strawberry, co-host of the nationally syndicated "Steve Harvey Morning Show, "delivers more of the no-nonsense woman-to-woman straight talk her listeners have come to love. Shirley tells it like it is from the heart. Now, in this uplifting motivational guide, she brings her vivacious, inspirational, and down-to-earth message to women everywhere: Get up, get out, and be the best you can be This call to action helps women look at their lives with a candid eye and tackle such issues as:
Love and Relationships: the highs and lows of dating, marriage, and breakups
Family: the challenges of being a great mom
Sisterhood: ways to get (and give) the support you need to stay sane
Self: tips for overcoming low self-esteem and depression, and finding balance, faith, and acceptance
Full of motivating Strawberry Tips, personal stories, and helpful suggestions for drama-stuck girlfriends, this book encourages you to love yourself and your life
About the Author


lyah beth leflore is the coauthor of "Cosmopolitan Girls," Having been a television producer and entertainment executive for over a decade, she's an insider's insider. Sean Combs, Biggie, Gerald Levert, Toni Braxton, and Mary J. Blige are among the numerous entertainers with whom she has developed professional and personal ties. She was an associate producer of the hit FOX television series "New York Undercover," and producer of UPN's "Grown Ups," She has worked at Uptown Entertainment and Alan Haymon Entertainment," "Lyah lives in Los Angeles.

Steve Harvey began doing stand-up comedy in the mid-1980s. His success as a stand-up comedian led to a WB network show, "The Steve Harvey Show", which ran from 1996 to 2002. It was a huge hit and won multiple NAACP Image Awards. In 1997, Harvey continued his work in stand-up comedy, touring as one of the "Kings of Comedy," along with Cedric the Entertainer, D. L. Hughley, and Bernie Mac. The comedy team would later be reunited in a film by Spike Lee called "The Original Kings of Comedy". Steve Harvey is now widely known as the host of the nationally syndicated "Steve Harvey Morning Show", which has more than seven million listeners. Harvey continues his unending pursuit and commitment to furthering opportunities in high schools throughout the country with generous contributions from the Steve Harvey Foundation.
Praise For The Strawberry Letter…
"Only a woman who lives life with purpose and divine revelation can inspire people through her advice, and that is Shirley."—Tyler Perry
 
"Shirley Strawberry is a sistah who has been there and conquered that. Her insightful advice on life, love, and relationships makes her book a must-read for anyone struggling with past hurts."—Mo'Nique, Academy Award winner and host of The Mo'Nique Show

"Like that reliable friend who's always there for you, [Strawberry's] first book doesn't disappoint."—Essence
 
"Timely and on point with its meaningful messages and warm wisdom . . . This book offers advice with a heaping side of love."—Los Angeles Sentinel
 
"Full of short gems that provide welcome advice on the run."—New York Amsterdam News