A Blaze of Glory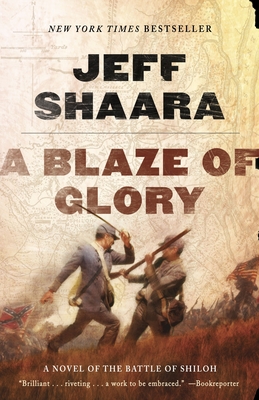 A Blaze of Glory
A Novel of the Battle of Shiloh
Ballantine Books, Paperback, 9780345527363, 448pp.
Publication Date: April 9, 2013
* Individual store prices may vary.
Buy at Local Store
Enter your zip code below to purchase from an indie close to you.
or
Buy Here
Description
An] exciting read . . . Jeff] Shaara returns to the U.S. Civil War in this first book of a new trilogy. . . . This novel is meticulously researched and brings a vivid reality to the historical events depicted. "Library Journal"
"NEW YORK TIMES "BESTSELLER
Spring 1862. The Confederate Army in the West teeters on the brink of collapse. General Albert Sidney Johnston is forced to abandon the critical city of Nashville and rally his troops in defense of the Memphis and Charleston Railroad. Hot on Johnston's trail are two of the Union's best generals: Ulysses Grant and Don Carlos Buell. If their combined forces can crush Johnston's army and capture the railroad, the war in the West likely will be over. There's just one problem: Johnston knows of the Union plans and is poised to launch an audacious surprise attack on Grant's encampment a small settlement in southwestern Tennessee anchored by a humble church named Shiloh.
Drawing on meticulous research, Jeff Shaara dramatizes the key decisions of the commanders on both sides of the conflict and brings to life the junior officers, conscripts, and enlisted men who gave their all for the cause. With stunning immediacy, Shaara takes us inside the maelstrom of Shiloh as no novelist has before.
Brilliant . . . riveting . . . a work to be embraced. Bookreporter
Includes a preview of Jeff Shaara's next Civil War novel, "A Chain of Thunder.
About the Author
The story of Gods and Generals begins with Michael Shaara, author of the Pulitzer Prize-winning classic The Killer Angels. A native of New Jersey, Michael Shaara grew to be an adventurous young man: over the years, he found work as a sailor, a paratrooper, a policeman, and an English professor at Florida State University. In 1952, his son Jeff was born in New Brunswick, New Jersey.
Michael's interest in Gettysburg was prompted by some letters written by his great-grandfather, who had been wounded at the great battle while serving with the 4th Georgia Infantry. In 1966, he took his family on a vacation to the battlefield and found himself moved.
In 1970, Michael Shaara returned to Gettysburg with his son Jeff. The pair crisscrossed the historic site, gathering detailed information for the father's novel-in-progress. In 1974, the novel was published with the title The Killer Angels. This gripping fictional account of the three bloody days at Gettysburg won Michael Shaara a Pulitzer Prize and a vast, appreciative audience. To date it has sold two million copies.
When Michael Shaara died in 1988, his son Jeff began to manage his literary estate. It was a legacy he knew well, having helped his father create it. When director Ron Maxwell filmed the movie Gettysburg, based on The Killer Angels, he asked Jeff to serve as a consultant. Maxwell encouraged Shaara to continue the story his father began; inspired, Jeff planned an ambitious trilogy, with The Killer Angels as the centerpiece, following the war from its origins to its end.
With Gods and Generals, Jeff Shaara gives fans of The Killer Angels everything they could have asked--an epic, brilliantly written saga that bringsthe nation's greatest conflict to life.
Praise For A Blaze of Glory…
"Brilliant . . . riveting . . . a work to be embraced."—Bookreporter
 
"[An] exciting read . . . [Jeff] Shaara returns to the U.S. Civil War in this first book of a new trilogy. . . . This novel is meticulously researched and brings a vivid reality to the historical events depicted."—Library Journal
 
"Dynamic portrayals [of] Johnston, Grant and William Tecumseh Sherman."—The Wall Street Journal
 
"A stunning achievement by an outstanding writer."—Huntington News