Windhaven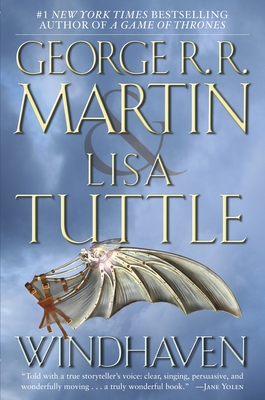 Windhaven
Bantam, Paperback, 9780345535498, 336pp.
Publication Date: October 16, 2012
* Individual store prices may vary.
Buy at Local Store
Enter your zip code below to purchase from an indie close to you.
or
Buy Here
Description
"Told with a true storyteller's voice: clear, singing, persuasive, and wonderfully moving . . . a truly wonderful book."—Jane Yolen
 
From #1 New York Times bestselling author George R. R. Martin and acclaimed author Lisa Tuttle comes a timeless tale that brilliantly renders the struggle between the ironbound world of tradition and a rebellious soul seeking to prove the power of a dream.
 
Among the scattered islands that make up the water world of Windhaven, no one holds more prestige than the silver-winged flyers, romantic figures who cross treacherous oceans, braving shifting winds and sudden storms, to bring news, gossip, songs, and stories to a waiting populace. Maris of Amberly, a fisherman's daughter, wants nothing more than to soar on the currents high above Windhaven. So she challenges tradition, demanding that flyers be chosen by merit rather than inheritance. But even after winning that bitter battle, Maris finds that her troubles are only beginning. Now a revolution threatens to destroy the world she fought so hard to join—and force her to make the ultimate sacrifice.
 
"Martin and Tuttle make wonderful professional music together . . . shifting easily from moments of almost unbearable tension to others of sheer poetry and exhilaration."—Fort Worth Star-Telegram
 
"A powerful flight of the imagination . . . an entirely enjoyable reading experience, wrought by a pair of writers noted for excellence."—Roger Zelazny
 
"It's romance. It's science fiction. It's beautiful."—A. E. van Vogt
 
"I didn't mean to stay up all night to finish Windhaven, but I had to!"—Anne McCaffrey
About the Author
George R.R. Martin has been a full-time writer for over 25 years. He is the author of the acclaimed, internationally bestselling fantasy series "A Song of Ice and Fire", which is the basis of HBO's popular "Game of Thrones "television series. Martin has won multiple science fiction awards, including 4 Hugos, 2 Nebulas, the Bram Stoker, the Locus Award, the World Fantasy Award, the Daedelus, the Balrog, and the Daikon (Japanese Hugo).

Lisa Tuttle won the Nebula Award for her story "The Bone Flute--which she refused to accept--and the Arthur C. Clarke Award for her novel "Lost Futures". She lives with her family in Scotland.
Praise For Windhaven…
Praise for Windhaven:

"A powerful flight of the imagination ... wrought by a pair of writers noted for excellence."—Roger Zelazny

"Told with a true storyteller's voice: clear, singing, persuasive, and wonderfully moving. They have made a mythic land and peopled it with unforgettable characters. It is a book for adults and children who have dreamed of flying with their own wings, and for story listeners of all ages for whom dreams are as potent as realities. A truly wonderful book."—Jane Yolen

"It's a romance. It's science fantasy. It's beautiful."—A.E. van Vogt

"The pace never slackens, shifting easily from moments of almost unbearable tension to others of sheer poetry and exhilaration. Martin and Tuttle make wonderful professional music together."
-- Fort Worth Star-Telegram


For George R. R. Martin's A Game of Thrones:

"Grabs hold and won't let go. It's brilliant."-- Robert Jordan

"A grand feast and pageant: George R. R. Martin has unveiled for us an intensely realized, romantic but realistic world."-- Chicago Sun-Times

A Clash of Kings:

"Destined to be one of the best fantasy series ever written."-- The Denver Post

"Rivals T. H. White's The Once and Future King."-- The Des Moines Register

For Lisa Tuttle's The Pillow Friend:

"A disturbing novel about dreams and wishes, a nightmarish distaff monkey's paw of a book that it's impossible to forget. Lisa Tuttle remains our preeminent chronicler of family madness and desire."-- Neil Gaiman

"Stunning. This novel shows us that what we hide from ourselves, and what we make up, may be more real than reality itself."-- Library Journal

Lost Futures:

"Lisa Tuttle's best fiction is like a slow settling of vast planes of thought and emotion -- luminous, quiet, wry and often bitter. The edges almost always admit other worlds, sometimes horrific, whose full import may be revealed, fully and skillfully, in a single, telling line."-- Kathleen Ann Goonan, The New York Review of Science Fiction