After Earth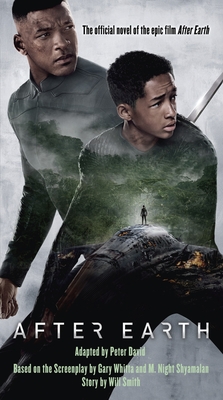 After Earth
Del Rey Books, Mass Market Paperbound, 9780345543202, 401pp.
Publication Date: May 28, 2013
* Individual store prices may vary.
Buy at Local Store
Enter your zip code below to purchase from an indie close to you.
or
Buy Here
Description
Experience the vast tapestry of After Earth in a novelization unlike any other: a thousand-year saga featuring original content from the mind of Peter David, the veteran sci-fi author who helped develop the richly imagined universe. This is the complete, never-before-seen chronicle of the extraordinary family that's been across the universe and back—from humanity's last days on Earth through the events of the epic film!
 
RAIGE RUNS IN THE FAMILY
 
General Cypher Raige of the United Ranger Corps is only the latest in a long line of heroes. For a thousand years, ever since the globe was engulfed by environmental apocalypse, the Raiges have been instrumental in humanity's survival. They led the way as the survivors abandoned Earth, settled an uninhabitable planet called Nova Prime, withstood an onslaught from a mysterious alien force, and carved out a new home in the farthest reaches of the galaxy.
 
Now Cypher has returned to his family after an extended tour of duty. For his thirteen-year-old son, Kitai, tagging along with his famous father is the adventure of a lifetime—and a chance to salvage their relationship. But when an asteroid collides with their craft, they make a crash landing that leaves Cypher seriously—perhaps fatally—wounded.
 
Kitai Raige has always wanted to prove that he has what it takes to live up to his illustrious name. Now, all too soon, he gets his chance. With his father's life on the line, Kitai must venture out into the strange, hostile terrain of a new world that seems eerily familiar: Earth.
About the Author
Peter David is a prolific author whose career spans nearly two decades. His recent novels include "Tigerheart: A Tale of the Anyplace" and "Darkness of the Light". He is also renowned for his work as a comic-book writer, including the "Incredible Hulk", "Spider-Man", and the Fallen Angel. He is the cocreator and author of the bestselling Star Trek: New Frontier series for Pocket Books.

Gary Whitta is an award-winning screenwriter best known for the postapocalyptic thriller "The Book of Eli". He was also a writer and story consultant on Telltale Games interactive adaptation of "The Walking Dead", for which he was the co-recipient of a BAFTA award. Most recently he served as a writer on Lucasfilm s new generation of "Star Wars" projects for film and television. "Abomination" is his first novel.

M. Night Shyamalan screenwriter, director, and producer has captured the attention of audiences around the world with his original films for almost two decades. His films include The Sixth Sense, Unbreakable, The Village, and The Happening". He and his wife, Dr. Bhavna Shyamalan, cofounded the M. Night Shyamalan Foundation, dedicated to helping empower individuals.