The Last Days of New Paris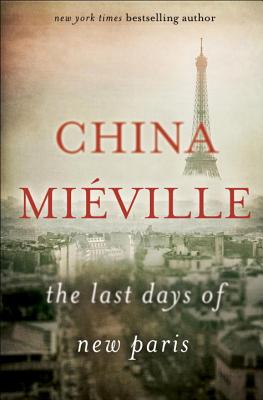 The Last Days of New Paris
Del Rey Books, Hardcover, 9780345543998, 224pp.
Publication Date: August 9, 2016
* Individual store prices may vary.
Buy at Local Store
Enter your zip code below to purchase from an indie close to you.
or
Buy Here
Description
A thriller of war that never was of survival in an impossible city of surreal cataclysm. In The Last Days of New Paris, China Mieville entwines true historical events and people with his daring, uniquely imaginative brand of fiction, reconfiguring history and art into something new.
Beauty will be convulsive. . . .
1941. In the chaos of wartime Marseille, American engineer and occult disciple Jack Parsons stumbles onto a clandestine anti-Nazi group, including Surrealist theorist Andre Breton. In the strange games of the dissident diplomats, exiled revolutionaries, and avant-garde artists, Parsons finds and channels hope. But what he unwittingly unleashes is the power of dreams and nightmares, changing the war and the world forever.
1950. A lone Surrealist fighter, Thibaut, walks a new, hallucinogenic Paris, where Nazis and the Resistance are trapped in unending conflict, and the streets are stalked by living images and texts and by the forces of Hell. To escape the city, he must join forces with Sam, an American photographer intent on recording the ruins, and make common cause with a powerful, enigmatic figure of chance and rebellion: the exquisite corpse.
But Sam is being hunted. And new secrets will emerge that will test all their loyalties to each other, to Paris old and new, and to reality itself.
Praise for The Last Days of New Paris
Beautiful, stunningly realized . . . The Last Days of New Paris] is a brief vacation in alien latitudes, a midnight layover in an imaginary place. NPR
A thoughtful, highbrow novella . . . Mieville's self-assuredstyleoffers up a strong sense of humanity, whilethe strangeSurrealist monstersgiveLast Daysa fun and complementarymad-science component. USA Today
A] testament to the necessary, progressive power of art . . . Both moving and disturbingly timely. Newsday

A novel both unhinged and utterly compelling, a kind of guerrilla warfare waged by art itself, combining both meticulous historical research and Mieville's unparalleled inventiveness. Chicago Tribune
About the Author
China Mieville is the author of numerous books, including This Census-Taker, Three Moments of an Explosion, Railsea, Embassytown, Kraken, The City & The City, and Perdido Street Station. His works have won the World Fantasy Award, the Hugo Award, and the Arthur C. Clarke Award (three times). He lives and works in London.