Catastrophic Care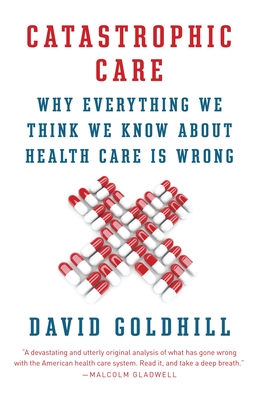 Catastrophic Care
Why Everything We Think We Know about Health Care Is Wrong
Vintage Books, Paperback, 9780345802736, 385pp.
Publication Date: November 5, 2013
* Individual store prices may vary.
Buy Now
or
Shop Local
Enter your zip code below to purchase from an indie close to you.
Description
In 2007 David Goldhill's father died from infections acquired in a well-regarded New York hospital. The bill, for several hundred thousand dollars, was paid by Medicare. Angered, Goldhill became determined to understand how it was possible that well-trained personnel equipped with world-class technologies could be responsible for such inexcusable carelessness and how a business that failed so miserably could still be rewarded with full payment.
"Catastrophic Care"is the eye-opening result. In it Goldhill explodes the myth that Medicare and insurance coverage can make care cheaper and improve our health, and shows how efforts to reform the system, including the Affordable Care Act, will do nothing to address the waste of the health care industry, which currently costs the country nearly $2.5 trillion annually and in which an estimated 200,000 Americans die each year from preventable errors. "Catastrophic Care" proposes a completely new approach, one that will change the way you think about one of our most pressing national problems.
Praise For Catastrophic Care…
Praise for David Goldhill's Catastrophic Care

"A devastating and utterly original analysis of what has gone wrong with the American health care system. Read it, and take a deep breath. . . . [Goldhill] will convince you that our 'solutions' are not solving our problems. They are making our problems worse."
—Malcolm Gladwell

"Thought provoking. . . . A for-profit business executive who actually states that better than adequate health care should be available to all people in the country. . . . Mr. Goldhill observes and explains the issues in an understandable manner for the layperson."
—New York Journal of Books
 
"The best popular health care book . . . a crystal clear account of what has gone wrong and how to fix it."
—Tyler Cowen, Holbert L. Harris Professor of Economics, George Mason University

"Powerful—edge-of-the-seat riveting—because it is not, in any sense, a policy book. Rather, this is a story about saving ourselves. . . . It steps outside of the established political debate and lexicon—one of the rare books addressing a major national policy issue that is able to do so in language not already debased by the problem itself. . . . Alas, healthcare civilians can't actually read most books about healthcare (and if you can, then you are part of the problem). But you can read this one."
—Michael Wolff, The Guardian

"David Goldhill is a genius observer of a broken system in need of fresh ideas. His testimony and common-sense ideas are devastatingly important in light of out-of-control medical prices. A must-read for doctors, policy-makers and patients alike. Catastrophic Care is a defining book of our era, and a roadmap for fixing our country's leading debt driver. You will never see medical care the same way."
—Marty Makary, MD, author of Unaccountable: What Hospitals Won't Tell You and How Transparency Can Revolutionize Healthcare

"For those who are troubled by both the failures of our healthcare system and the misdirected diagnoses and prescriptions offered by pundits, policy experts, and politicians from across the political spectrum, David Goldhill offers a brilliant and much needed antidote. By calling out with remarkable clarity the numerous, but now almost invisible incentives and regulations that drive the dysfunction of our current system, Catastrophic Care provides an illuminating framework for understanding the crisis, and then a path to the kinds of reforms that will surely be necessary."
—Jeffrey S. Flier, Dean of the Faculty, Harvard Medical School

"[A] fascinating and infuriating expose of the American health care system . . . Goldhill persuasively argues that a consumer-driven system—which will require greater vigilance and commitment on the part of citizens in actively managing their health—is the first step toward sustainability and lower individual and government costs. . . . Goldhill's reasoned, logical alternative to the current system goes beyond political finger-pointing, and while his take is sobering, it's one that offers sound solutions."
—Publishers Weekly

"Highly readable presentation of one businessman's solution, likely to provoke discussion if not agreement."
—Kirkus Reviews