Fifteen One-Act Plays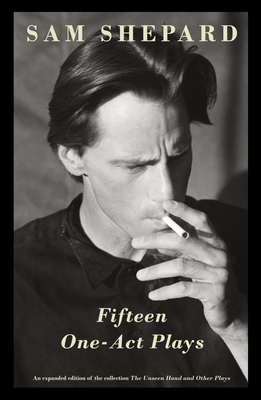 Fifteen One-Act Plays
Vintage Books, Paperback, 9780345802767, 381pp.
Publication Date: August 14, 2012
* Individual store prices may vary.
Buy at Local Store
Enter your zip code below to purchase from an indie close to you.
or
Not Currently Available for Direct Purchase
Description
Filled with wry, dark humor, unparalleled imagination, unforgettable characters, and exquisitely crafted storytelling, Sam Shepard's plays have earned him enormous acclaim over the past five decades. In these fifteen one-acts, we see him at his best, displaying his trademark ability to portray human relationships, love, and lust with rare authenticity. These fifteen furiously energetic plays confirm Shepard's status as our most audacious living playwright, unafraid to set genres and archetypes spinning with results that are utterly mesmerizing. Included in this volume:
Ages of the Moon
Evanescence; Shakespeare in the Alley
Short Life of Trouble
The Unseen Hand
The Rock Garden
Chicago
Icarus's Mother
4H Club
Fourteen Hundred Thousand
Red Cross
Cowboys #2
Forensic & The Navigators
The Holy Ghostly
Back Bog Beast Bait
Killer's Head.
About the Author
Sam Shepard is the Pulitzer Prize winning author of more than fifty-five plays andnumerous works of fiction. He was a finalist for the W. H. Smith Literary Award for his story collection Great Dream of Heaven.He has also written the story collectionsCruising Paradise and Day Out of Days, two collections of prose pieces, Motel Chronicles and Hawk Moon, and Rolling Thunder Logbook, a diary of Bob Dylan s 1975 Rolling Thunder Review tour. As an actor he has appeared in more than sixty films, including Days of Heaven, Crimes of the Heart, Steel Magnolias, The Pelican Brief, Snow Falling on Cedars, All the Pretty Horses, Black Hawk Down, and The Notebook. He received an Oscar nomination in 1984 for his performance in The Right Stuff. His screenplay for Paris, Texas won the Grand Jury Prize at the 1984 Cannes Film Festival, and he wrote and directed the film Far North in 1988 and co-wrote and starred in Wim Wenders Don t Come Knocking in 2005. Shepard s plays, eleven of which have won Obie Awards, include The God of Hell, The Late Henry Moss, Simpatico, Curse of the Starving Class, True West, Fool for Love, and A Lie of the Mind, which won a New York Drama Desk Award. In 2012 he was awarded an honorary doctorate from Trinity College, Dublin, Ireland. A member of the American Academy of Arts and Letters, Shepard received the Gold Medal for Drama from the Academy in 1992, and in 1994 he was inducted into the Theatre Hall of Fame."
Praise For Fifteen One-Act Plays…
"The greatest American playwright of his generation…the most inventive in language and revolutionary in craft…the writer whose work most accurately maps the interior and exterior landscapes of his society." —New York Magazine

"Stunning in their originality, defiant and inscrutable." —Esquire

"With the exception of David Mamet, no American playwright of his generation matches Mr. Shepard in the creation of characters that are immediately so accessible and so mysterious." —The New York Times
 
"One of our best and most challenging playwrights. . . . His plays are a form of exorcism: magical, sometimes surreal rituals that grapple with the demonic forces in the American landscape." —Newsweek
 
"One of the most original, prolific and gifted dramatists at work today." —The New Yorker
 
"Sam Shepard fulfills the role of professional playwright as a good ballet dancer or acrobat fulfills his role in performance. . . . He always delivers, he executes feats of dexterity and technical difficulty that an untrained person could not, and makes them seem easy." —The Village Voice
 
"The major talent of his generation. . . . An original, a major force. . . . [Shepard] is a poet of the theater, shaping a new language out of broken words: an emotional seismograph registering the tremors which shake the substratum of human life." —The Times (London)