Charles Dickens and the Great Theatre of the World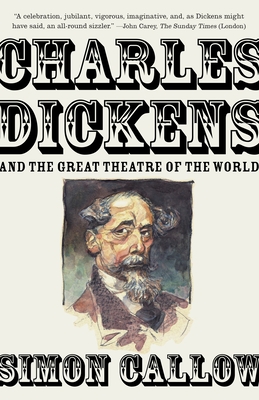 Charles Dickens and the Great Theatre of the World
Vintage Books, Paperback, 9780345803238, 370pp.
Publication Date: August 7, 2012
* Individual store prices may vary.
Shop Local
Enter your zip code below to find indies closest to you.
Description
Acclaimed actor and writer Simon Callow offers a fresh perspective on one of the greatest novelists in the English language, Charles Dickens, in this lively, colorful biography.
 
Dickens was one of the first true celebrity authors. Thousands of fans in Britain and America eagerly awaited each new installment of his stories and flocked to see him on his legendary speaking tours. Not only did he create an incredible cast of characters on the page, but he was also a dazzling mimic and storyteller, and he wrote, stage-managed, and acted in plays for the public. Throughout his life, from his childhood performances in pubs to his legendarily powerful reading tours, Dickens was fanatical about the stage. Callow reveals Dickens's genius on and off the page and offers a compelling insight into a life that was driven as much by performance and showmanship as by literature.
About the Author
In addition to his distinguished career in the theater, Simon Callow has appeared in the films "Amadeus", "A Room with A View", and "Four Weddings and a Funeral". He is also the author of "Charles Laughton: A Difficult Actor", "Shooting the Actor", and "Orson Welles". He lives in London, England.
Praise For Charles Dickens and the Great Theatre of the World…
"A biography of Boz by a great English actor, who seeks to reverse the orthodox argument that Dickens's obsession with theatrical drama made his books sentimental and lachrymose. . . .  Callow argues that it is Dickens's attention to stagecraft and the power of drama that's made folks like The Artful Dodger and Miss Havisham seem three dimensional."
    —The Daily Beast

"In this insightful biographical study, Callow, a seasoned actor and director, shows how the theatricality that caused Dickens' legs to swell also vastly enlarged his literary art. . . . Itself as enchanting as a well-directed stage play, this narrative will delight any lover of Dickens."
    —Booklist, starred review

"[Simon Callow's] admiration for his subject glistens on every page. . . . The author shows us the vast, adoring crowds and tallies the enormous psychic and physical costs of Dickens' myriad performances and celebrity. Callow makes us wish we'd been in those crowds to watch this astonishing magician weave his literary spells."
     —Kirkus Reviews

"A celebration, jubilant, vigorous, imaginative, and, as Dickens might have said, an all-round sizzler."
     —John Carey, The Sunday Times (London)

"This is the book we have long been waiting for and only Simon Callow could have written it. . . . A marvelous book that deepens and enriches our understanding and enjoyment of Dickens."
     —Michael Slater, author of Charles Dickens: A Life Defined by Writing
 
"Callow . . . writes with great authority and elegant insouciance, which makes this 'biography with a twist' very entertaining."
     —The Independent (London)
 
"It is one of the many virtues of this book that Callow not only admires his subject, but has got inside him."
     —The Guardian (London)

"Of the several books published this year in honor of the bicentennial of Dickens's birth, this by Callow is in many ways the best because it has all the gusto that a popular biography of Dickens—a man who "could do nothing by halves"—should possess. . . . The best biography for Dickens newcomers and a wonderful read for all."
     —Library Journal, starred review