Sweet Tooth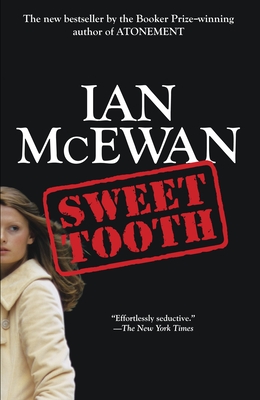 Sweet Tooth
Anchor Books, Paperback, 9780345803450, 400pp.
Publication Date: July 2, 2013
* Individual store prices may vary.
Buy at Local Store
Enter your zip code below to purchase from an indie close to you.
or
Buy Here
Description
A "New York Times" Notable Book
One of the Best Books of the Year: "San Francisco Chronicle," "Seattle Times
"
Cambridge student Serena Frome's beauty and intelligence make her the ideal recruit for MI5. The year is 1972. The Cold War is far from over. England's legendary intelligence agency is determined to manipulate the cultural conversation by funding writers whose politics align with those of the government. The operation is code named "Sweet Tooth." Serena, a compulsive reader of novels, is the perfect candidate to infiltrate the literary circle of a promising young writer named Tom Haley. At first, she loves the stories. Then she begins to love the man. How long can she conceal her undercover life? To answer that question, Serena must abandon the first rule of espionage: trust no one.
About the Author
Ian McEwan is the author of a number of novels and short story collections for adults, including First Love, Last Rites, winner of the Somerset Maugham Award, The Comfort of Strangers, which was nominated for the Booker Prize, Amsterdam, winner of the Booker Prize, and his latest novel, Atonement, which was also nominated for the Booker Prize and is a New York Times best-selling title. The Daydreamer is his first book for young readers. He lives in London, England.
Praise For Sweet Tooth…
"Effortlessly seductive." —The New York Times

"McEwan's most stylish and personal book to date. . . . The year's most intensely enjoyable novel." —The Daily Beast

"Ian McEwan's delicious new novel provides all the pleasures one has come to expect of him: pervasive intelligence, broad and deep knowledge, elegant prose, subtle wit and, by no means least, a singularly agreeable element of surprise." —The Washington Post

"It's Jane Austen meets John Le Carré meets John Barth. . . . Remarkable." —The Boston Globe

"A tightly crafted, exquisitely executed page-turner—a post-modern hall of mirrors asking savvy questions about identity (with an unreliable narrator and a Martin Amis cameo), all concealed in the immersive trappings of a Victorian novel complete with a marriage plot. There's such rich pleasure and vulnerability in McEwan's storytelling, such style and heart in his well-honed sentences." —USA Today

"Extremely clever in both the British and American senses . . . his most cheerful book by far." —The New York Times Book Review

"McEwan has pulled off something remarkable here: Sweet Tooth is a suspenseful plot-and-character-driven novel with an unexpected postmodern twist. It's Jane Austen meets John Le Carré meets John Barth . . . [Its] delights turn out to be considerable." —The Boston Globe

"What could be a better match—Ian McEwan and a spy story? The English writer is a thinking person's best-seller, whose intelligent, tightly plotted novels, narrated in careful prose, address the pressing social and political issues of our days." —San Francisco Chronicle

"An espionage story that, at its heart, is about literature. . . . Ruminate[s] on writers, writing, and the power of stories." —Entertainment Weekly

"Spy novels often boast plenty of twists but few real surprises. Sweet Tooth, however, includes a plot development at once unpredictable and plausible. Such is McEwan's dexterity in crafting this game-changer, that not only does it mesh with the story but also enrobes what came before with an extra layer of meaning. . . . Life-affirming and almost defiantly romantic." —The Miami Herald

"An engaging book that's as much suspenseful drama as it is romantic love story." —NPR Books

"Ian McEwan's delicious new novel provides all the pleasures one has come to expect of him: pervasive intelligence, broad and deep knowledge, elegant prose, subtle wit and, by no means least, a singularly agreeable element of surprise." —Kansas City Star

"The novel's pleasures are multiple and, as always with McEwan, they begin with the storytelling." —Bloomberg Businessweek

"McEwan, a contemporary master of narrative . . . brings suspense and wit to the telling. . . .  Sweet Tooth moves elegantly toward its inevitable conclusion." —The Seattle Times

"A wisecracking thriller hightailing between love and betrayal, with serious counter-espionage credentials thrown in. . . . This is ultimately a book about writing, wordplay and knowingness." —The Sunday Telegraph (London)

"Thoroughly clever. . . . A sublime novel about novels, about writing them and reading them and the spying that goes on in doing both. . . . McEwan has spied on real life to write Sweet Tooth, and in reading it we are invited to spy on him. . . . Rich and enjoyable." —Financial Times

"McEwan fans won't be disappointed by Sweet Tooth, and newcomers to the author will be meeting him at the top of his game." —The Globe and Mail (Toronto)