Cairo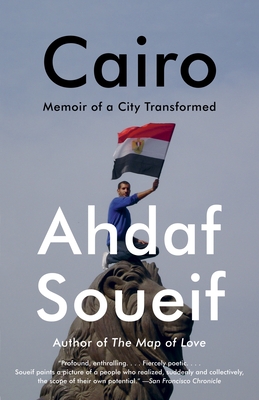 Cairo
Memoir of a City Transformed
Anchor Books, Paperback, 9780345803511, 244pp.
Publication Date: October 7, 2014
* Individual store prices may vary.
Buy at Local Store
Enter your zip code below to purchase from an indie close to you.
or
Not Currently Available for Direct Purchase
Description
When throngs of Egyptians gathered in Tahrir Square to demand the fall of Hosni Mubarak's regime, Ahdaf Soueif--author, journalist, lifelong progressive--was among them. Now, in this deeply personal work, Soueif summons her storytelling talents to trace her city's--and nation's--ongoing transformation.
She writes of the youth who led the revolts, and of the jubilation in the streets at Mubarak's departure. We then watch as Egyptians fight for democracy, as the interim military government throws up obstacles at every step, and as an Islamist is voted into power. Against this stormy backdrop, Soueif casts memories of her own Cairo--the open-air cinema; her family's land, in sight of the pyramids--and affirms the beauty of this ancient city. Soueif's postscript considers Egypt's more recent turns in its difficult but deeply inspiring path toward its great human aims.

About the Author
Ahdaf Soueif is an Egyptian novelist and political and cultural commentator.
Praise For Cairo…
"A compelling memoir of those 18 days in 2011 when the Tahrir Square protests were the epicenter of the Arab world. . . . Soueif's fervor is infectious. She has much at stake. . . . She possesses a revolutionary's zeal but also an artist's regret at not finishing a new novel that would have put the uprising's clamor, anger and aspirations into context. . . . She captures the enthusiasm, whispers, marches, fears, personal bonds and determination of Egyptians summoning their courage to change their fate."
—Jeffrey Fleishman, Los Angeles Times

"Booker Prize finalist Ahdaf Soueif, daughter of a family of prominent Egyptian intellectuals, paints a fiercely poetic portrait of this changing metropolis in her new memoir. Born and raised in the heart of the city and witness to its many permutations, she describes with haunting precision the decay, the mounting garbage, the cynical neglect of historical architecture that came to characterize the Cairene landscape in the Anwar Sadat and Mubarak years. . . . From the historic sit-in in Tahrir Square to the spontaneous neighborhood watches organized when the police deserted their posts, Soueif paints a picture of a people who realized, suddenly and collectively, the scope of their own potential. . . . Her firsthand account of those 18 days of revolution is possibly the most profound, enthralling record of the Egyptian uprising ever written for a western audience." —G. Willow Wilson, San Francisco Chronicle

" To understand the currents and undercurrents of Egyptian society and politics, it helps to have a local guide. Few are more qualified than Ahdaf Soueif. . . . Soueif, who has been an author, a political commentator, and an activist amid Egypt's change and turmoil, is able to take readers back behind the headlines to see the individual Egyptians whose decisions help to shape the country. . . . [Cairo] takes the reader to the front lines of the conflict in the streets with vignettes worthy of a novel. . . . Powerful. . . . Soueif's ability to render grand events in human terms and put Egypt's current conflict into historical and global context makes Cairo a book that demands attention." —James Norton, The Christian Science Monitor


"There are many records of the Egyptian revolution, but Cairo takes us on a more intimate journey, one that goes far beyond the eighteen days of Tahrir Square. [Soueif] speaks of her own story but also speaks for thousands, perhaps even millions, of other Cairenes." —Yasmine El Rashidi, The Guardian
 
"In years to come Cairo will be a reminder to liberals of their most glorious hour. It should serve as a heartening reminder of what they are capable of achieving when united and courageous." —The Economist

"The Cairo native recounts with joy and anguish the revolution that toppled the Mubarak regime—the hope raised by a new generation demanding freedom (she had protested against the Sadat government in 1972)—and led to free elections." —Billy Heller, New York Post

"Soueif recorded those first dangerous, heady days of revolution in her diary. In her new memoir Cairo, Soueif expands that diary into a heartfelt account not just of a city in the moment of indelible political change, but of the home she continues to love and celebrate." —Jennie Yabroff, Biographile
 
"[Cairo] offers an invaluable window into the mind-set of a large proportion of the engaged Egyptian population . . . It is a testimony to the dramatic cultural shift that has taken place in Egypt and elsewhere in the Arab world in public attitudes toward power . . . The lasting value of Cairo stems from the author's ability to precisely and accessibly articulate the irreversible cultural changes that have suddenly transformed the public's relationship to authority in Egypt and other Arab states. Arab citizens at last feel empowered, collectively and individually, to assert their fundamental rights as citizens. " —Hussein Ibish, Bookforum
 
"A rare work. . . . Enjoin[s] Soueif's political dreams and her personal ones, creating a vibrant combination of memory and reportage. . . . A report from the front lines of the revolution, a bittersweet love letter to Egypt and a memoir of Soueif's life, written in the precise, lyrical prose that illuminates her novels. . . . Soueif's portrait of Cairo is nuanced, detailed and heartbreaking. . . . Soueif, unlike a visiting war reporter, makes the horror of the revolution personal. Not only does she evoke joyous times in similar passageways, she knows many of the young men who are fighting—her own two sons take part in the revolution, as do her nieces, nephews and the friends of children. . . . Powerful, informative and suffused with the beauty of a city (and nation) in transition. Soueif invites readers into Egyptian homes and histories, daring us to understand that behind the scenes of bloodshed are individuals who yearn for freedom—living rooms filled with mothers and fathers, grandparents and squabbling children." —Kirkus Reviews (from an interview with the author)

"Soueif, author of the best-selling The Map of Love, provides a timely updated edition of her 2012 memoir, Cairo, My City, Our Revolution. Though the bulk of her eyewitness recollections understandably focus on the 18-day revolution that rocked Cairo in 2011, she also interweaves affectionate and peaceful memories of Cairo, Egypt, and her family into the fiery narrative. As an active participant and a keenly observant chronicler of the impassioned rebellion, her firsthand account offers insight into the heady days of the original revolution and its tumultuous aftermath. As Egyptian citizens continue to live the revolution, she provides a uniquely personal perspective on both the events of 2011 and the ensuing years. Contemporaneous food for thought in light of the current turmoil in the Middle East." —Margaret Flanagan, Booklist
 
"A deeply personal, engaged tribute by the far-flung Egyptian novelist and journalist as she returned to witness the revolution in her hometown.
 
"When the conflicts broke out in Egypt at the end of January 2011, Cairo-born Soueif (Mezzaterra: Fragments from the Common Ground, 2005, etc.), having made her home largely in London since her marriage to the London critic and author Ian Hamilton (d. 2001), quickly returned to join the protests in Tahrir Square, as did her sons and many of her relatives. Tahrir is the Cairenes' 'Holy Grail,' Soueif writes, the locus for demonstrations against the government since 1972, when the author took part in protests against Anwar Sadat's oppressive regime. It has taken the next generation, her children's, to prevail, and Soueif declares gallantly: 'We follow them and pledge what's left of our lives to their effort.' Early on, the author offers an in-the-moment account of the crucial first days of street action, often messy, confused and involving violent clashes with the police, though undertaken by friends, family and strangers alike with heartwarming camaraderie. Then she moves to October 2011 to show how the Supreme Council of the Armed Forces hijacked the revolution without keeping President Hosni Mubarak's decapitated regime from 'growing a new head.' Soueif then moves back in time to the period of February 1-12. While being jostled in crowds, blinded by tear gas, harassed by the paramilitary thug militias, the dreaded baltagis, the author passionately evokes the spirit of the beloved city where she was born, through neighborhoods and buildings long-suffering and dear to her—e.g., pleading with police to cease torturing prisoners in the iconic Egyptian Museum.
 
"Soueif offers both an extraordinary eyewitness document and a sense of the historical import of the revolution." —Kirkus Reviews
 
"What novelist and translator Soueif (The Map of Love; Mezzaterra) saw during the Egyptian revolution of 2011 was no less than the upheaval of an entire order of Egyptian society. Hailing from a generation that tried and failed to bring down the Mubarak dictatorship years before, Soueif rushed back to her native city from a literacy festival in India on January 25, 2011, after she heard news of unrest erupting in Tahrir Square. She affectionately refers to the now world-famous square as the Midan (from its Arabic name: Midan el-Tahrir) throughout her diary of the decisive first 18 days, which is followed by accounts tracking later events during the year, such as the elections. Her grown children and nephews and nieces raced home, some from abroad, joining activist siblings, friends, aunts, and other relatives. They participated in spontaneous street demonstrations and provided aid to protestors, as well as setting up film and Internet stations. Soueif writes of her tremendous pride in the younger generation, who faced down government thugs, snipers perched on buildings, tanks, and security police. Many received beatings, or were imprisoned (her own nephew, Alaa, was jailed) or, in the case of 843 protesters, killed. The author captures beautifully her anguish at Cairo's degradation during the years of dictatorship and Mubarak's calculated sowing of division among the people. Yet with the recent violent eruptions in the country, Soueif's work as an eloquent witness is a work in progress." —Publishers Weekly