No Reservations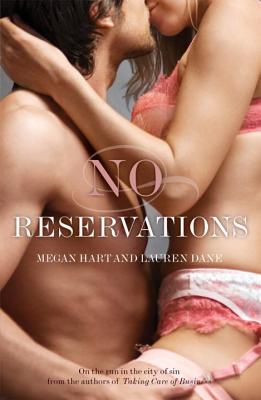 No Reservations
Black Lace, Paperback, 9780352345196, 222pp.
Publication Date: April 2010
* Individual store prices may vary.
Shop Local
Enter your zip code below to find indies closest to you.
Description
Christmas is not so merry for Kate and Leah. Kate's romantic winter holiday is destroyed by the sudden and uninvited presence of Dix's annoying ex-wife, while Brandon's super-perfect family and a diamond ring send Leah running for the refuge of a girls' vacation with Kate to Sin City. But Dix and Brandon both know what they want. In hot pursuit, the men show up in Vegas, ready to use every sensual trick they have to convince Kate and Leah to take a gamble on forever. Four days in Vegas, two sexy and determined men, one penthouse suite, and no reservations make for one wild ride.
About the Author
Megan Hart has been writing since she could grip a pencil in her fist. Published in nearly all genres of romance, perhaps most notably erotic, she intends to keep writing stories that make her happy. She lives in the deep, dark woods of Pennsylvania with Superman and two monsters . . . er . . . children.
Lauren Hawkeye is a writer, yoga newbie, knitting aficionado, and animal lover who lives in the shadows of the great Rocky Mountains of Alberta, Canada. She's older than she looks (really!) and younger than she feels (most of the time), and she loves to explore the journeys that take women through life in her stories.
Saranna DeWylde has always been fascinated by things better left in the dark. She wrote her first story after watching The Exorcist at a slumber party. Like all writers, Saranna has held a variety of jobs, from operations supervisor for an airline to call girl's assistant to corrections officer. But, like Hemingway said, "Once writing has become your major vice and greatest pleasure, only death can stop it." So she traded in her cuffs for a full-time keyboard and lives in the Midwest with her very own Prince Charming.
Lauren Dane is a New York Times and USA Today bestselling author of over fifty novels and novellas across several genres. She lives in the Northwest with her patient husband and three wild children.Visit Lauren on the web at www.laurendane.comE-mail laurendane@laurendane.comTwitter: @laurendaneYou can write to her at: PO BOX 45175, Seattle, WA 98145