Prodigal Son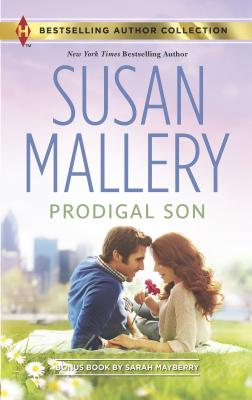 Prodigal Son
Prodigal Son/Best Laid Plans
Harlequin, Mass Market Paperbound, 9780373180806, 460pp.
Publication Date: December 31, 2013
* Individual store prices may vary.
Shop Local
Enter your zip code below to find indies closest to you.
Description
THE CEO'S REDEMPTION 
Jack Hanson knew what he wanted, and it wasn't a media empire. After his father died suddenly, Jack was forced to leave his law practice and take over his father's company. And, oh, yeah, pull it back from the brink of catastrophe. The one bright spot in the whole mess was his new hire-an old business-school friend, Samantha Edwards. Samantha was just as smart, fun and vibrant as she'd been in school, but now...she was a hell of a lot sexier. 
Samantha Edwards knew what she wanted, and it wasn't love. She'd already made a mess out of her life once. She wasn't about to jeopardize the best job she'd ever had by breaking the cardinal rule of business-falling for the boss. And yet, Jack needed her. And she needed him...because if he could put the company back together, perhaps he could heal her, too.
About the Author
New York Times bestselling author Susan Mallery has won the hearts of millions of readers around the world with books described as immensely entertaining, intensely emotional (RT Book Reviews), hilarious (Fort Worth Star-Telegram) and heartwarming (Publishers Weekly). One major retailer recently described her as the queen of romantic fiction. While she deeply appreciates the accolades of critics and booksellers, Mallery is even more honored by the enthusiasm of her readers and the word of mouth that catapults her toward the top of the bestsellers lists time and again. Mallery lives in not-so-sunny Seattle with her husband and a toy poodle who makes her laugh every day and who s not even a little bit impressed by her growing fame. Visit Susan online at www.SusanMallery.com.

Emilie Richards's many novels feature complex characterizations and in-depth explorations of social issues, a result of her training and experience as a family counselor, which contribute to her fascination with relationships of all kinds. Emilie, a mother of four, lives with her husband in northern Virginia, where she is currently working on her next novel for MIRA Books.