Completely Smitten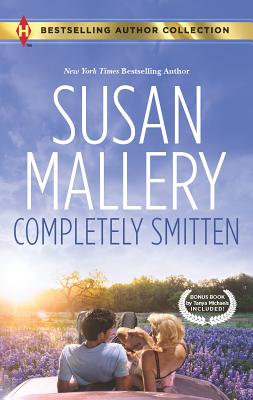 Completely Smitten
Completely Smitten\Hers for the Weekend
Harlequin, Mass Market Paperbound, 9780373184880, 432pp.
Publication Date: February 2011
* Individual store prices may vary.
Shop Local
Enter your zip code below to find indies closest to you.
Description
Haley Foster had lived her entire life in a box. Guided by her preacher father and the residents of her tiny hometown as to what to do, what to wear and even who to marry, she'd lost herself along the way. But no more. Now she was going to live on her own terms and do all the things good preachers' daughters didn't do. Starting with Kevin Harmon.
The injured U.S. Marshal needed a ride from Kansas to his home in Texas. Haley had a car. She figured she owed him a favor. And he knew a lot more about being bad than she did. A few days, just the two of them, in her tiny convertible and intimate hotel rooms...It would be fun, it would be passionate, it would be an experience.
At least, that was her plan. He just didn't know it yet.
About the Author
New York Times bestselling author Susan Mallery has won the hearts of millions of readers around the world with books described as immensely entertaining, intensely emotional (RT Book Reviews), hilarious (Fort Worth Star-Telegram) and heartwarming (Publishers Weekly). One major retailer recently described her as the queen of romantic fiction. While she deeply appreciates the accolades of critics and booksellers, Mallery is even more honored by the enthusiasm of her readers and the word of mouth that catapults her toward the top of the bestsellers lists time and again. Mallery lives in not-so-sunny Seattle with her husband and a toy poodle who makes her laugh every day and who s not even a little bit impressed by her growing fame. Visit Susan online at www.SusanMallery.com.

Tanya Michaels is an award-winning author of over forty romances, a six-time RITA nominee and the mom of two highly imaginative kids. Alas, Tanya's hobbies of reading, oil-painting and cooking keep her much too busy to iron clothes. She and her husband are living out their slightly wrinkled happily-ever-after in Atlanta, but you can always find Tanya on Twitter, where she chats with followers about books, family and TV shows ranging from Outlander to iZombie.