Saving June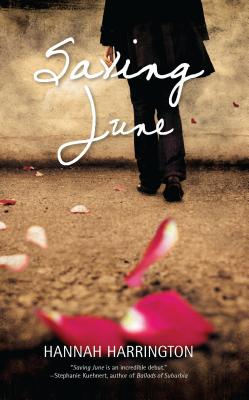 Saving June
Harlequin, Paperback, 9780373210244, 322pp.
Publication Date: November 22, 2011
* Individual store prices may vary.
Buy Now
or
Shop Local
Enter your zip code below to purchase from an indie close to you.
Description
"Everyone's sorry. But no one can explain why."
Harper Scott's older sister, June, took her own life a week before high school graduation, leaving Harper devastated. So when her divorcing parents decide to split up June's ashes, Harper steals the urn and takes off cross-country with her best friend, Laney, to the one place June always dreamed of goingCalifornia.
Enter Jake Tolan, a boy with a bad attitude, a classic-rock obsessionand an unknown connection to June. When he insists on joining them, Harper's just desperate enough to let him. With his alternately charming and infuriating demeanor and his belief that music can see you through anything, he might be exactly what Harper needs. ExceptJake's keeping a secret that has the power to turn her life upside downagain.
About the Author
Hannah Harrington resides in Michigan with one dog and too many cats. When she isn t busy writing like a crazy person, she enjoys arguing about politics, watching documentaries, playing guitar (very badly), and speaking about herself in the third person. You can find her online at hannahharrington.blogspot.com, facebook.com/hannahharrington and on Twitter @hharrington_.
Praise For Saving June…
"...Harper's voice rings true, and readers looking for a mildly steamy romance (with more than a splash of alcohol, smoking and sex) won't be disappointed..." – Kirkus Book Reviews



Harper Scott's older sister, June, commits suicide two weeks shy of her high school graduation. So Harper, at sixteen, defiantly finds herself an only child while mourning her sister's death and is not kind to her divorced and grief-stricken parents. To make matters worse, Harper is the one who finds her deceased sister. But a huge unanswered question for Harper is why? June does not even leave behind a goodbye note. Meanwhile, Tyler hangs around during the wake at Harper's house. Harper ponders his connection to her late sister and investigates clues regarding June's unfulfilled dreams. This takes her on a road trip to California with her best friend, Laney, and Tyler to scatter her sister's ashes into the Pacific Ocean. Along the way, they encounter adventure among their far-flung friends and acquaintances. Just when you discover Tyler's connection to Harper's sister, the climax takes the reader on a gigantic twist. This is a work of realistic fiction. The author portrays the life of wayward teens who seek independence. Although the language may be a bit salty, it is realistic. The story also includes the theme of budding romance, with some sexual expression. SAVING JUNE should become a movie some day – it even includes a soundtrack. -- VOYA