Goddess Interrupted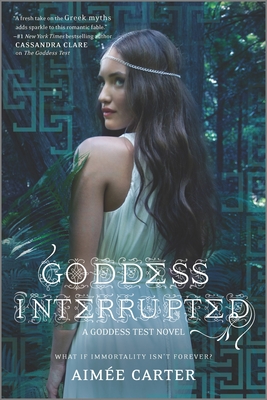 Goddess Interrupted
Harlequin Teen, Paperback, 9780373210459, 296pp.
Publication Date: March 27, 2012
* Individual store prices may vary.
Shop Local
Enter your zip code below to find indies closest to you.
Description
Kate Winters has won immortality. But if she wants a life with Henry in the Underworld, she'll have to fight for it.
Becoming immortal wasn't supposed to be the easy part. Though Kate is about to be crowned Queen of the Underworld, she's as isolated as ever. And despite her growing love for Henry, ruler of the Underworld, he's becoming ever more distant and secretive. Then, in the midst of Kate's coronation, Henry is abducted by the only being powerful enough to kill him: the King of the Titans.
As the other gods prepare for a war that could end them all, it is up to Kate to save Henry from the depths of Tartarus. But in order to navigate the endless caverns of the Underworld, Kate must enlist the help of the one person who is the greatest threat to her future.
Henry's first wife, Persephone.
About the Author
Aimee Carter was born in 1986 and raised in Michigan, where she currently resides. She started writing fan fiction at eleven, began her first original story four years later, and hasn t stopped writing since. She attended the University of Michigan in Ann Arbor and received a degree in Screen Arts and Cultures with a subconcentration in Screenwriting. Besides writing and reading, she enjoys seeing movies, playing with her puppies, and wrestling with the puzzles in the paper each morning.