The Immortal Rules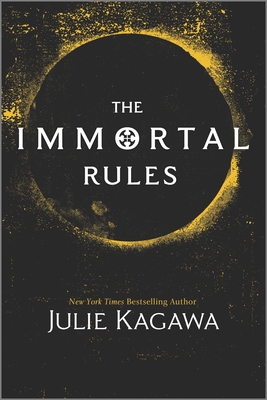 The Immortal Rules
Harlequin Teen, Paperback, 9780373210800, 457pp.
Publication Date: March 26, 2013
* Individual store prices may vary.
Shop Local
Enter your zip code below to find indies closest to you.
Description
"To survive in a ruined world, she must embrace the darkness..."
Allison Sekemoto survives in the Fringe, the outermost circle of a walled-in city. By day, she and her crew scavenge for food. By night, any one of them could be eaten. Some days, all that drives Allie is her hatred of" them"--the vampires who keep humans as blood cattle. Until the night Allie herself dies and becomes one of the monsters.
Forced to flee her city, Allie must pass for human as she joins a ragged group of pilgrims seeking a legend--a place that might have a cure for the disease that killed off most of civilization and created the rabids, the bloodthirsty creatures who threaten human and vampire alike. And soon Allie will have to decide what-and who-is worth dying for...again.
Enter Julie Kagawa's dark and twisted world as an unforgettable journey begins.
Don't miss the first book in Julie Kagawa's highly anticipated new series, TALON, AVAILABLE OCTOBER 28, 2014.
About the Author
Born in Sacramento, CA, Julie Kagawa moved to Hawaii at the age of nine. There she learned many things; how to bodyboard, that teachers scream when you put centipedes in their desks, and that writing stories in math class is a great way to kill time. Her teachers were glad to see her graduate.

Julie now lives is Louisville, KY with her husband and furkids. She is the international and NYT bestselling author of The Iron Fey series. Visit her at juliekagawa.com.
Praise For The Immortal Rules…
Allie is a terrific heroine-tough, pragmatic, yet sympathetic-and readers will be hungry to see where her story goes. Kagawa wraps excellent writing and skillful plotting around a well-developed concept and engaging characters, resulting in a fresh and imaginative thrill-ride that deserves a wide audience.
-- *Starred* Publishers Weekly review

"Action packed, rife with drama and moral
quandaries, and laced with an impossible romance, this first in the Blood of Eden series will hit the mark
with readers who like some supernatural in their dystopias and don't mind a bloody sword fight." -- Booklist

"Allie's a smart, strong and compelling heroine, and readers will gladly join her for this adrenaline-rich ride."
-- Kirkus Reviews