Marrying the Royal Marine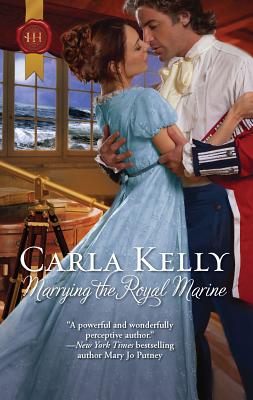 Marrying the Royal Marine
Harlequin, Mass Market Paperback, 9780373295982, 288pp.
Publication Date: June 1, 2010
* Individual store prices may vary.
Shop Local
Enter your zip code below to find indies closest to you.
Description
Illegitimate Polly Brandon has never felt like more than an ugly duckling. So she's amazed when Hugh Philippe Junot pays her such close attention as they sail for Portugal.
Under ordinary circumstances she knows this distinguished lieutenant colonel of marines would never have looked at her, but having his protection for the journey is comforting—and something more that she's afraid to give a name to. Should she trust what she sees in Hugh's eyes—has she turned from an ugly duckling into a beautiful, desirable swan?
About the Author
Carla Kelly started writing Regencies because of her interest in the Napoleonic Wars. She specializes in writing about warfare at sea and the ordinary people of the British Isles who were, let's face it, far more numerous than lords and ladies! In her spare time she likes to cook, crochet, read British crime fiction and history books, and is never happier than talking about the fur trade or Indian Wars – her other favourite interest.