Wolf Trap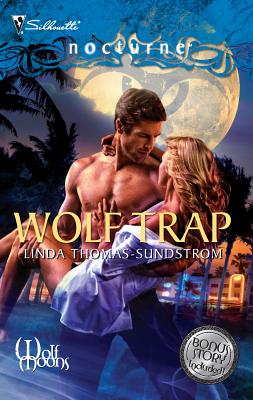 Wolf Trap
Silhouette, Mass Market Paperback, 9780373618309, 288pp.
Publication Date: March 1, 2010
* Individual store prices may vary.
Not Currently Available for Direct Purchase
or
Shop Local
Enter your zip code below to purchase from an indie close to you.
Description
Sultry Miami nights are about to get even hotter as Linda Thomas-Sundstrom continues her Wolf Moons series. A hunt for a rogue werewolf stirs passion in the hearts of two rebels….
When a full moon awakens the beast within Dr. Parker Madison, he is hell-bent on finding explanations for his new Otherworld form and his insatiable lust. On the prowl one night, he discovers a woman in trouble—one who stirs his darker desires and may hold the answers to all that he has searched for.
After a sexy stranger rescues her from a brutal attack, Chloe Tyler can't stop dreaming about him. Especially when something deep inside his electric-blue eyes calls to her, and his touch fills her with the most intense desire she's ever known. But her nightmares are all too real. A rogue werewolf's bite has changed her life forever, and the one who turned her hunts her still. Unless her dream man comes to her rescue yet again, the danger remains….
About the Author
Linda Thomas-Sundstrom, author of contemporary and historical paranormal romance novels, writes for Silhouette Nocturne. She lives in the West, juggling teaching, writing, family, and caring for a big stretch of land. She swears she has a resident Muse who sings so loudly, she virtually funds the Post-It Company with sticky notes full of scribbles. Eventually, Linda hopes to get to all those ideas.
Praise For Wolf Trap…
"Dr. Traver doesn't just instruct readers on how to achieve happier, healthier lives, she provides compelling evidence for why her methods work." -- Dr. Mark Hyman, bestselling author of The UltraMind Solution and UltraMetabolism



"I've seen our employees lose 40+ pounds, get off their blood pressure and diabetes medications, figure out their sleep problems, reduce stress, and more. The Program really works!" -- Dagan McLennan, RN, Wellness Center, Google



"Dr. Traver's The Program is opening the next frontier of medicine with its smart, simple, and science-based approach to protecting your health." -- Bradley A. Perkins, M.D., executive vice president for strategy and innovation at Vanguard Health Systems



"This is a tipping point book: it shows us how to get beyond sick care to doable healthy living." -- Bob Johansen, bestselling author of Get There Early and Leaders Make the Future



"This no-nonsense, evidence-based approach can transform lives by teaching people how to do what they know they should, but is so increasingly difficult to practice in the modern world." -- J. Nick Baird, M.D., CEO, Alliance to Make US Healthiest



"Wow! What an undertaking! The Program provides just the right mix of what, why, and how for readers interested in improving their health and well-being." -- Cathy Heaney, Ph.D., Stanford Prevention and Research Center



"Simply wonderful. Reading The Program somehow reminded me of reading Shakespeare. Each page is so laden with verities that a slow read is mandated. So, read slow and thrive." -- Walter M. Bortz II, M.D., bestselling author of Dare to Be 100 and We Live Too Short and Die Too Long