Destiny's Last Bachelor?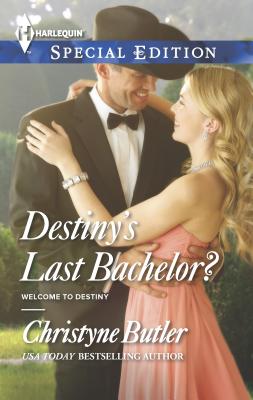 Destiny's Last Bachelor?
Harlequin, Mass Market Paperbound, 9780373658183, 217pp.
Publication Date: May 20, 2014
* Individual store prices may vary.
Buy at Local Store
Enter your zip code below to purchase from an indie close to you.
or
Not Currently Available for Direct Purchase
Description
When Hollywood royalty meets the Jersey Shoreit must be destiny
Hollywood princess Priscilla Lennox is running awayfrom the paparazzi, the gossipand the humiliation of walking in on her boyfriend with her sister. She runs all the way to Destiny, Wyoming, where gorgeous Dean Zippenella knocks her off her Louboutinsand into the river. Still, Priscilla's spirits aren't dampened. After all, she's here to repair her image, not to mention raise money for charity.
Dean, with his Jersey Shore machismo, is there at every turn. At first it's annoying. Then it's endearing. And when he grants Priscilla her birthday wish of a kiss, it's beginning to look a lot like love For real this timeuntil her sister turns up in town again. Is she here to make amends? Or steal her man?
About the Author
Christyne Butler loves romance, both in real life and in the make-believe worlds of music, movies, television and most importantly to her . . books. She first discovered romance novels while serving in the US Navy and it s been a love affair ever since. With her feet now firmly on dry land in the wilds of New England, she works full time, takes care of her family and stays busy by putting pen to paper (okay, fingers to keyboard) writing her own romance novels. She writes contemporary romances full of life, love, a hint of laughter and perhaps a dash of danger too. Christyne loves the challenge of the boy-meets-girl, boy-loses-girl, boy-gets-girl-back and the journey of joy and hardship two people go through. And there has to be a happily ever after or she s just not satisfied. When she s not writing, Christyne can be found hunting for treasures at yard sales and antique fairs to add to her collection of memorabilia of women who served in the military, watching classic romantic movies and the great musicals of the 40 s and 50 s, and reading books by her favorite authors. Learn more about Christyne by visiting her website at www.christynebutler.com.