Hard Magic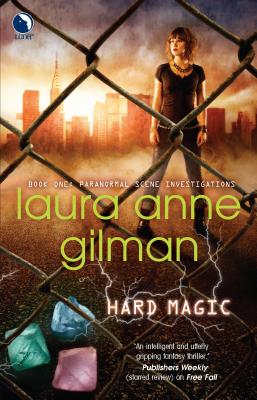 Hard Magic
Luna Books, Paperback, 9780373803132, 329pp.
Publication Date: May 2010
* Individual store prices may vary.
Shop Local
Enter your zip code below to find indies closest to you.
Description
Welcome to P.U.P.I.—Private, Unaffiliated, Paranormal Investigations
A handpicked team trained to solve crimes the regular police can't touch—crimes of magic.
My name's Bonnie Torres. Recent college grad, magic user and severely unemployed. Until I got a call out of nowhere to interview for a job I hadn't applied for. It smelled fishy, but the brutal truth was I needed the work—so off I went.
Two days later I'm a PUPI—me and Nick, Sharon, Nifty and Pietr. Five twentysomethings, thrown into an entirely new career in forensic magic.
The first job we get is a doozy: proving that the deaths of two Talents were murder, not suicide. Worse, there are high-profile people who want us to close up shop and go away. We're sniffing out things they'd rather keep buried.
Looks as if this job is gonna get interesting. The only problem is, we're making it up as we go along….
About the Author
Laura Anne Gilman is the author of the popular Cosa Nostradamus books (the Retrievers and Paranormal Scene Investigations urban fantasy series), the Nebula award-nominated The Vineart War trilogy. Her first story collection is "Dragon Virus", and she continues to write and sell short fiction in a variety of genres. Follow her at @LAGilman or LauraAnneGilman.net.