'Til the World Ends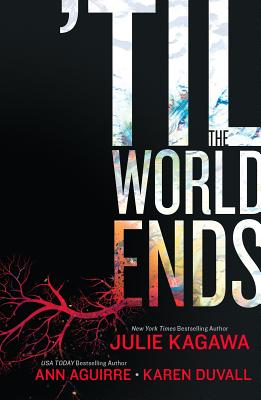 'Til the World Ends
Luna Books, Paperback, 9780373803491, 361pp.
Publication Date: January 29, 2013
* Individual store prices may vary.
Buy at Local Store
Enter your zip code below to purchase from an indie close to you.
or
Buy Here
Description

New York Times bestselling and critically acclaimed authors Julie Kagawa, Ann Aguirre and Karen Duvall imagine what it takes to survive in a world where everything you knowand loveis about to disappearforever.
Dawn of Eden by Julie Kagawa
Before The Immortal Rules, there was Red Lung, a relentless virus determined to take out all in its path. For Kylie, the miracle of her survival is also her burdenas a doctor at one of the clinics for the infected, she is forced to witness endless suffering. What's worse, strange things are happening to the remains of the dead, and by the time she befriends Ben Archer, she's beginning to wonder if a global pandemic is the least of her problems.
Thistle & Thorne by Ann Aguirre
After a catastrophic spill turns the country into a vast chemical wasteland, those who could afford it retreated to fortresses, self-contained communities run by powerful corporations. But for Mari Thistle, life on the outsidein the Red Zoneis a constant struggle. To protect her family, Mari teams up with the mysterious Thorne Goodman. Together, they'll face an evil plot in both the underworld of the Red Zone and the society inside the fortresses that could destroy those on the outsidefor good.
Sun Storm by Karen Duvall
Sarah Daggot has been chasing storms since she was a child. But after the biggest solar flares in history nearly destroy the planet, she becomes a Kinetic, endowed by her exposure to extreme radiation with the power to sense coming stormsin the cosmos and beyond. And she's not the only one. Sarah believes the Kinetics are destined to join forces and halt the final onslaught of the sun. She'll vow to keep trying to convince the one missing link in their chain of defense, the enigmatic Ian Matthews, up until the world ends.

About the Author
Born in Sacramento, CA, Julie Kagawa moved to Hawaii at the age of nine. There she learned many things; how to bodyboard, that teachers scream when you put centipedes in their desks, and that writing stories in math class is a great way to kill time. Her teachers were glad to see her graduate.

Julie now lives is Louisville, KY with her husband and furkids. She is the international and NYT bestselling author of The Iron Fey series. Visit her at juliekagawa.com.

Ann Aguirre has been a clown, a clerk, a savior of stray kittens, and a voice actress, not necessarily in that order. She grew up in a yellow house across from a cornfield, but she now lives in a terracotta adobe house in Mexico with her husband and two adorable children. The post-apocalyptic novel "Enclave" is her first book for young adults. She also writes the romantic science fiction series about Sirantha Jax, starting with "Grimspace", as well as urban fantasy and paranormal romance. As Ava Gray, she writes paranormal romantic suspense.

Karen Duvall has been telling stories since the age of three, when she wasn t yet able to write but could tell her tales to her mother, who wrote them down for her. Illustrating the stories with crayons was one of her favorite parts of writing those early books. She still draws pictures, but is now a professional graphic designer with a passion for portraying her characters and scenes by painting pictures with words. You can visit her blog at www.karenduvall.blogspot.com.