More Than Words, Where Dreams Begin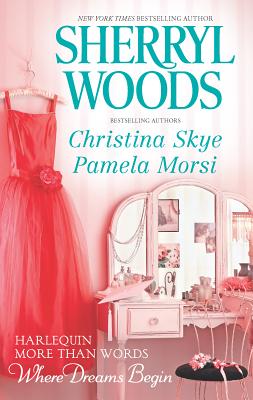 More Than Words, Where Dreams Begin
Black Tie and Promises\Safely Home\Daffodils in Spring
Harlequin, Mass Market Paperbound, 9780373837847, 374pp.
Publication Date: February 26, 2013
* Individual store prices may vary.
Not Currently Available for Direct Purchase
or
Shop Local
Enter your zip code below to purchase from an indie close to you.
About the Author
With her roots firmly planted in the South, #1 New York Times bestselling author Sherryl Woods has written many of her more than one hundred books in that distinctive setting, whether it s her home state of Virginia, her adopted state, Florida, or her much-adored South Carolina. Now she s added North Carolina s Outer Banks to her list of favorite spots. And she remains partial to small towns, wherever they may be. Sherryl divides her time between her childhood summer home overlooking the Potomac River in Colonial Beach, Virginia, and her oceanfront home with its lighthouse view in Key Biscayne, Florida. Wherever I am, if there s no water in sight, I get a little antsy, she says. Sherryl loves to hear from readers. You can visit her on her website at www.sherrylwoods.com, link to her Facebook fan page from there, or contact her directly at Sherryl703@gmail.com.
Chritina Skye has eaten snake meat in Shanghai and armadillo in Canton. A Ph.D. graduate in Chinese literature, she has translated for Chinese generals, dissident poets, and fifth-generation puppet masters. In 1981 the Ohio native was nearly arrested when a businessman she was working for insisted she help him smuggle two "ladies of dubious virtue" into Peking's prestigious State Guest House.
The armed PLA soldiers at the gate were not amused, shenotes. But these days Skye's greatest love is England, especially the fog-swept southeast coast. Here she firstencountered the portrait of a proud-faced, sad-eyed aristocratand a great gray cat sitting protectively beneath it. Adrian andGideon haven't given her a moment's peace since.
Two Draycott novellas later (one appeared in Avon Books'Haunting Love Stories and one in Bewitching Love Stories), the award-winning author of four historical romances is deepat work on a new novel set at magical Draycott Abbey.
A descendant of Revolutionary War hero Adam Helmer, Christina Skye currently lives with her husband and youngson in New Jersey, where she prudently avoids snakes andanything that resembles an armadillo.
Publishers Weekly calls national bestselling author Pamela Morsi "the Garrison Keillor of romance." Her trademark wit and warmth enliven tightly written tales with down-home charm. Her novels, including Sealed with a Kiss, No Ordinary Princess, The Love Charm, and Courting Miss Hattie, have garnered rave reviews from critics and numerous awards including two RITA Awards, a Waldenbooks Sales Award, Bookstores that Care Favorite Romance Awards and the Maggie Prize for Historical Fiction, and Reviewer's Choice from Romantic Times maga-zine. She lives in Texas with her family.