Eat & Beat Diabetes with Picture Perfect Weight Loss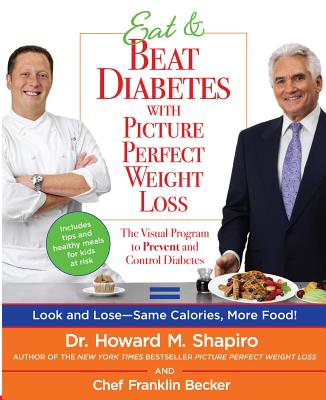 Eat & Beat Diabetes with Picture Perfect Weight Loss
The Visual Program to Prevent and Control Diabetes
Harlequin, Paperback, 9780373892181, 303pp.
Publication Date: May 1, 2010
* Individual store prices may vary.
Buy Now
or
Shop Local
Enter your zip code below to purchase from an indie close to you.
Description
Beat diabetes "and" lose weight
Ask any doctor or nutritionist who treats patients with diabetes: the first focus for controlling the disease is a healthy eating plan. But typical diabetic eating plans have been all about what you can't eat and what to do if you fall prey to a craving for foods you shouldn't have.
But now a typical day in the life of a diabetic might start with a smoked salmon-and-dill omelet, continue to a lunch of three-bean chili, salsa and guacamole, and finish with a dinner of grilled shrimp and shaved fennel, topped off by a dessert of chocolate terrine. It's a kind of eating that virtually guarantees not just control of the disease and a satisfying of the appetite, but an emphasis on specific nutrients that actually target diabetes, beating back its potential side effects and maintaining the healthy weight that is key to controlling the disease.
In "Eat & Beat Diabetes with Picture Perfect Weight Loss," Dr. Howard Shapiro uses the same visual method of food comparisons that made his bestselling weight-loss books so popular and easy to use. Now he has teamed with top chef Franklin Becker, a diabetic himself, and together they reveal the secrets to a diet that can actually help you prevent and beat diabetes without depriving yourself of delicious food.
About the Author
Howard M. Shapiro, D.O., is the author of the best-selling "Dr. Shapiro's Picture Perfect Weight Loss," He is founder and director of Howard M. Shapiro Medical Associates, a private multidisciplinary medical office in New York City that specializes in weight control and life management.




Robert Pike is an American Checker Federation MA Champion. Graduating from Brown University, he served as a Navy Jet Carrier Pilot & then a sales/marketing executive in Health Care Companies with three medical device patents. Years ago he was introducing his grandchildren to this "Granddaddy of Boardgames" and their interest started him off on an extensive, but unsuccessful, search for a primer on this not-so-simple mind game. So he wrote "Winning Checkers For Kids" and, for younger audiences, "Checker Power." He also produced an award winning video, "Learning to Play Better Checkers" to incorporate visualization into the learning process. Pike's colorful checker materials and captivating classroom presentations have beenenthusiastically received by students and educators, who find that the "magic of checkers" provides a stimulating, multigenerational challenge that develops critical thinking, strategizing, problem solving, perseverance and attention span, while also building important social skills. His Checker Puzzles have been featured in "Highlights For Children" magazine. He lives in San Diego.