Organize Your Mind, Organize Your Life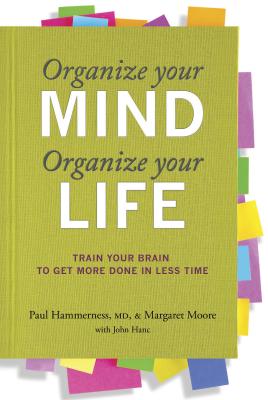 Organize Your Mind, Organize Your Life
Train Your Brain to Get More Done in Less Time
Harlequin, Paperback, 9780373892440, 240pp.
Publication Date: December 27, 2011
* Individual store prices may vary.
Buy at Local Store
Enter your zip code below to purchase from an indie close to you.
or
Buy Here
Description
The key to a less hectic, less stressful life is not in simply organizing your desk, but organizing your mind. Dr. Paul Hammerness, a Harvard Medical School psychiatrist, describes the latest neuroscience research on the brain's extraordinary built-in system of organization. Margaret Moore, an executive wellness coach and codirector of the Institute of Coaching, translates the science into solutions.
This remarkable team shows you how to use the innate organizational power of your brain to make your life less stressful, more productive and rewarding. You'll learn how to:
Regain control of your frenzy
Embrace effective uni-tasking (because multitasking doesn't work)
Fluidly shift from one task to another
Use your creativity to connect the dots
This groundbreaking guide is complete with stories of people who have learned to stop feeling powerless against multiplying distractions and start organizing their lives by organizing their minds.
About the Author
PAUL GRAVES HAMMERNESS is the Scientific Coordinator for Pediatric ADHD research at the Clinical and Research Program in Pediatric Psychopharmacology, Massachusetts General Hospital, Harvard Medical School. He is also consulting physician in Child and Adolescent Psychiatry at Newton Wellesley Hospital.
An award-winning author of over sixteen historical romance novels, Margaret began her career at the age of eight when she concocted stories featuring a lovely damsel and a handsome, misunderstood thief. She's had a soft spot for handsome, misunderstood rogues ever since.
Unknowingly pursuing her destiny, Margaret graduated with distinction from the University of Toronto with a Bachelor of Arts degree in English Literature. She also demonstrated a facility for language by winning the Winston Churchill Silver Medal for public speaking. She now utilizes this gift of the gab by giving workshops for various writing groups, including Romance Writers of America and the Canadian Authors Association.
A past president of Toronto Romance Writers, Margaret lives in Toronto with her husband, two teenagers and two cats.
JOHN HANC teaches writing and journalism at the New York Institute of Technology. He is a long time contributor to "Newsday" and a contributing editor to "Runner s World" magazine, as well as the author of "The Coolest Race on Earth". He lives with his wife and son in Farmingdale, New York.