The Bradshaw Variations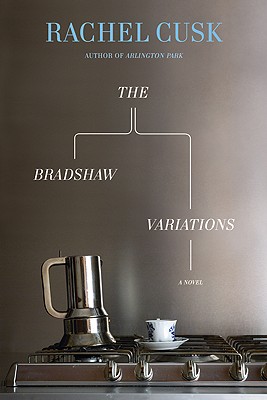 The Bradshaw Variations
Farrar, Straus and Giroux, Hardcover, 9780374100810, 240pp.
Publication Date: March 30, 2010
* Individual store prices may vary.
Buy at Local Store
Enter your zip code below to purchase from an indie close to you.
or
Not Currently Available for Direct Purchase
Description
Since quitting work to look after his eight-year-old daughter, Alexa, Thomas Bradshaw has found solace and grace in his daily piano study. His pursuit of a more artistic way of life shocks and irritates his parents and in-laws. Why has he swapped roles with Tonie Swann, his intense, intellectual wife, who has accepted a demanding full-time job? How can this be good for Alexa?

Tonie is increasingly seduced away from domestic life by the harder, headier world of work, where long-forgotten memories of ambition are awakened. She soon finds herself outside their tight family circle, alive to previously unimaginable possibilities. Over the course of a year full of crisis and revelation, we follow the fortunes of Tonie, Thomas, and his brothers and their families: Howard, the successful, indulgent brother, and his gregarious wife, Claudia; and Leo, lacking in confidence and propped up by Susie, his sharp-tongued, heavy-drinking wife. At the head of the family, the aging Bradshaw parents descend on their children to question and undermine them.

The Bradshaw Variations reveals how our choices, our loves, and the family life we build will always be an echo—a variation—of a theme played out in our own childhood. This masterful and often shockingly funny novel, Rachel Cusk's seventh, shows a prizewinning writer at the height of her powers.
About the Author
Rachel Cusk was born in 1967. She is the author of the memoirs A Life's Work: On Becoming a Mother and The Last Supper: A Summer in Italy, and of six novels: Saving Agnes, which won the Whitbread First Novel Award; The Temporary; The Country Life, which won a Somerset Maugham Award; The Lucky Ones, which was shortlisted for the Whitbread Novel Award; In the Fold; and Arlington Park, which was shortlisted for the Orange Broadband Prize for Fiction. In 2003, Cusk was chosen as one of Granta's Best of Young British Novelists. She lives in Brighton, England.
Praise For The Bradshaw Variations…
"Astonishing . . . Like a genius gem cutter, Cusk continues to brazenly flout the pure realism that dominates current literary fiction in favor of a Woolfean approach that uses style and sensory impressionism to chisel out inner turmoil. The Bradshaw Variations is a timely, necessary story . . . I'm escaping to the metaphorical forest with a pile of Cusk novels. I hope you'll be brave enough to join me." —Miranda Purves, Elle

"Again and again [Cusk] provides that primal joy of literature: the sense of things being seen afresh." —James Lasdun, The Guardian

"A virtuoso . . . [Cusk's] interiors whisper and shiver, as if Virginia Woolf had flitted through . . . It is the author's mix of scorn and compassion that is so bracing. Sometimes she complicates simple things, snarling them in a cat's cradle of abstraction, but just as often, a sentence rewards with its absolute and unexpected precision . . . [Cusk] has a task and she applies herself to it soberly: the trapping, if only in a mirrored surface, of some fragment of reality that might yield a truth about the whole." —Hilary Mantel, The Guardian

"Frighteningly sharp . . . [I was] affected and moved, [and] at times I just wanted to punch the air in a frenzy of delighted recognition . . . Every single one of these honestly drawn and heartsinkingly recognizable characters . . . gave me real, crackling pleasure . . . This isn't the first novel of Cusk's to make me laugh out loud, but it is the first to have really moved me . . . She shows here that she also has a generous understanding of families and relationships, of the sweet, ridiculous fragility of human experience . . . Her triumph is to make us laugh at, but also I think forgive, ourselves." —Julie Myerson, Financial Times

"Brilliant . . . Cusk is marvellous on the way that one generation watches another and it is her own watchfulness that makes her novel so special. She combines restlessness with absolute stillness; she misses nothing . . . In a sense, [this book] is a modern Mrs. Dalloway . . . I enjoyed everything about this dazzling performance of a book. I was engrossed, entertained and converted . . . This, Rachel Cusk's seventh novel, is her best." —Kate Kellaway, The Observer (London)

"Cusk is mercilessly acute in her dissection of the Bradshaw family. Their failures are exposed by her scalpel prose. It makes the reader feel rather protective of them, which is a clever trick. It allows Cusk's characters human breath beyond the high art of her writing . . . I know I will keep thinking about them." —Helen Brown, The Daily Telegraph
"Cusk, who won Britain's prestigious Whitbread Prize for her debut novel, 'Saving Agnes,' is a first-rate writer, caustically intelligent and sharply observant. . . Pretty much every page [of
The Bradshaw Variations
]  gleams with Cusk's darkly humorous powers of observation." —Curtis Sittenfeld,
The New York Times Book Review
 "Cusk has a gift for wrapping minute, piercing observations on domestic life in lyrical passages that consistently bring fresh insight to the time-worn question." —The A.V. Club "Like Franzen's
The Corrections
, Cusk's narrative captures the emotional life of its characters, complete with downfalls and compromises. While the chapters move swiftly, Cusk takes time to pause over and unravel intimate moments and uncover the illogical paths of human relationships." —Heather Paulson,
Booklist