All the Living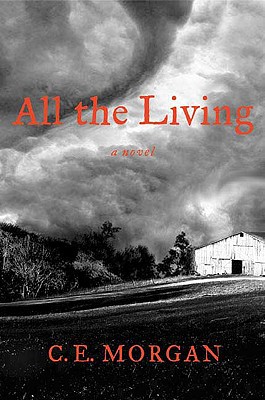 All the Living
Farrar, Straus and Giroux, Hardcover, 9780374103620, 208pp.
Publication Date: March 31, 2009
* Individual store prices may vary.
Buy at Local Store
Enter your zip code below to purchase from an indie close to you.
or
Not Currently Available for Direct Purchase
Description
One summer, a young woman travels with her lover to the isolated tobacco farm he has inherited after his family dies in a terrible accident. As Orren works to save his family farm from drought, Aloma struggles with the loneliness of farm life and must find her way in a combative, erotically-charged relationship with a grieving, taciturn man. A budding friendship with a handsome and dynamic young preacher further complicates her growing sense of dissatisfaction. As she considers whether to stay with Orren or to leave, she grapples with the finality of loss and death, and the eternal question of whether it is better to fight for freedom or submit to love.
All the Living has the timeless quality of a parable, but is also a perfect evocation of a time and place, a portrait of both age-old conflicts and modern life. It is an ode to the starve-acre Southern farm, the mountain landscape, and difficult love. In her lyrical and moving debut novel, C.E. Morgan recalls both the serenity of Marilynne Robinson and the shifting emotional currents and unashamed eroticism of James Salter. It is an unforgettable book from a major new voice.
About the Author
C.E. Morgan studied English and voice at Berea College and holds a master's in theological studies from Harvard Divinity School. She lives in Kentucky.
Praise For All the Living…
"[All the Living] is a first novel, and the writing is simply astonishing. It is the writing of a much older author. Descriptions of the landscape of the rural South remind a reader of Willa Cather. The characters' utter lack of a sense of entitlement calls to mind Charlotte Brontë's Jane Eyre."—Susan Salter Reynolds, Los Angeles Times "A first novel so self-assured and unto itself, so unswerving in its purpose, so strummed through with a peculiar, particular, electrifying sound, that I found myself reading in a state of highest perplexity, and also gratitude and awe . . . All the Living is a novel about the hardest things—about grief and lonesomeness, about desiring much and staying true, about loving through and forgiveness. It's a novel that makes you think on all of that anew, and that spares nothing and no one in the process."—Beth Kephart, Chicago Tribune "Rarely in this reviewer's memory has a debut novel emerged with such a profound sense of place as C. E. Morgan's All the Living. As the story unfolds, descriptions are so vivid, yet so integrated and organic, that the reader can almost feel the lassitude of stifling humid air, smell the rich, warm earth, and see the furrowed fields, the dark mountains in the distance. The level of poetic detail makes All the Living a slow, seductive dive into another time and place, a deep, quiet place foreign to the frantic pace of contemporary urban life."—Karen Campbell, The Boston Globe "This lovely little book [is] one [readers] will be able to enter, be caught up by and remember. Morgan's prose is enchanting from the outset, its descriptions fresh, its cadences biblical. It is also fiercely inventive . . . Some readers will take deep satisfaction in the turn Aloma's path takes by novel's end. Others will grieve. But I doubt they'll soon forget her story—its setting, its way of life—seamless as haunting music."—Joan Frank, San Francisco Chronicle "Morgan writes with assurance and moral seriousness. Future novels could put the Harvard theological graduate in the company of Gail Godwin or even Marilynne Robinson as one of the rare writers who can combine religion and fiction without sacrificing either."—Yvonne Zipp, The Christian Science Monitor "This talented young writer can take a reader's breath away with her clear, precise depiction of the natural world. In this elegant, impressive debut, Morgan deftly traverses the jagged fissures of love and seeks to locate the primal bonds between the human soul and the world it inhabits."—Robert Weibezahl, Book Page "Morgan's enchanting debut follows the travails of a young woman [and] her bereaved lover. Aloma, herself an orphan from a young age, leaves her job at the mission school where she was raised to help her taciturn boyfriend, Orren, with his family farm after his family is killed in a car accident. Once at the farm, he retreats into himself and working the land, leaving Aloma to wrestle with her desire to pursue her dream of being a concert pianist. As her relationship with Orren becomes "more collision than cohabitation," Aloma finds in a local preacher a deep friendship that complicates her feelings for Orren, who drags his feet on marrying her. Young Aloma's growing understanding of love and devotion in the midst of deep despair is delicately and persuasively rendered through the lens of belief—be it in religion, relationships or music. Morgan's prose holds the rhythm of the local dialect beautifully, evoking the land, the farming lifestyle and Aloma's awakening with stirring clarity."—Publishers Weekly "As I read the opening pages of All The Living I was suddenly no longer in my study but gazing out at the leafy tobacco plants of a small Kentucky farm where a young couple are struggling to make their living, and their lives. In seemingly effortless prose, C.E. Morgan captures both the complexity and the simplicity of Orren's relentlessly hard work and Aloma's dangerous drift towards another man. A wonderful debut." —Margot Livesey, author of The House on Fortune Street


"Lack is everywhere in All the Living. Lack of rain, lack of cash, lack of other, less tangible things. From the first pages of C. E. Morgan's gripping, sensual debut novel, the contemporary Kentucky countryside sprawls into view . . . On this haunted background, Morgan paints a lush portrait of love in a bleak landscape . . . Morgan at once probes and tempers this privation in rich, poetic prose. She knows the land and her characters in minute detail and sets them forth with startling, lyric certainty . . . Morgan attended divinity school, and there is a sense of conjuring in her language; her prose is both earthbound and hymnlike, with the slight inflection of southern scripture." —Bookforum


"Morgan delivers an energetic novel ripe with both spiritual undercurrents and hardscrabble realism. Like Cormac McCarthy, she shows an attachment to working people, the land, and a kind of contemporary country timelessness." —Venus Zine


"Shimmering with sensibility, Morgan's stunning debut novel traces the emotional awakening of a young woman perched precariously between worlds and desires . . . Morgan pierces the skin of her characters with a depth and sensitivity seldom displayed by a first-time novelist, and the transfixing story arc is supported by beautifully descriptive passages and her unfailing ear for regional dialect. Brimming with discussion-worthy themes, this is sure to be a popular book-club choice." —Booklist


"Those who read for character and landscape will feast on C. E. Morgan's uncommon debut."—Karen R. Long, The Plain Dealer


"Morgan is a wonderful writer, her prose is near-poetry . . . [her] writing is the equal of Wendell Berry's in its descriptive power. [All the Living is] a book that is best savored. It will leave you looking forward to Morgan's next book."—Greg Langley, The Advocate (Baton Rouge)


"All the Living is an excellent debut for Morgan, a bold book of small incidents and large emotions. It is the work of an author unafraid to wrestle with language . . . Morgan gives us a portrait of love that's both simple and complicated at the same time."—Elinor Teele, California Literary Review