The Bellini Card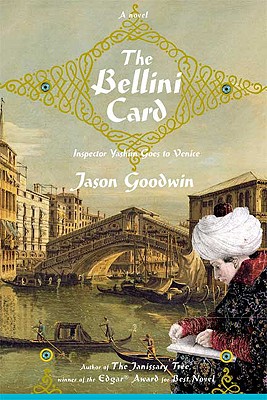 The Bellini Card
Farrar, Straus and Giroux, Hardcover, 9780374110390, 304pp.
Publication Date: March 3, 2009
* Individual store prices may vary.
Not Currently Available for Direct Purchase
or
Shop Local
Enter your zip code below to purchase from an indie close to you.
Description
Investigator Yashim travels to Venice in the latest installment of the Edgar® Award–winning author Jason Goodwin's captivating series Jason Goodwin's first Yashim mystery, The Janissary Tree, brought home the Edgar® Award for Best Novel. His follow-up, The Snake Stone, more than lived up to expectations and was hailed by Marilyn Stasio in The New York Times Book Review as "a magic carpet ride to the most exotic place on earth." Now, in The Bellini Card, Jason Goodwin takes us back into his "intelligent, gorgeous and evocative" (The Independent on Sunday) world, as dazzling as a hall of mirrors and utterly compelling. Istanbul, 1840: the new sultan, Abdülmecid, has heard a rumor that Bellini's vanished masterpiece, a portrait of Mehmet the Conqueror, may have resurfaced in Venice. Yashim, our eunuch detective, is promptly asked to investigate, but—aware that the sultan's advisers are against any extravagant repurchase of the painting— decides to deploy his disempowered Polish ambassador friend, Palewski, to visit Venice in his stead. Palewski arrives in disguise in down-and-out Venice, where a killer is at large as dealers, faded aristocrats, and other unknown factions seek to uncover the whereabouts of the missing Bellini. But is it the Bellini itself that endangers all, or something associated with its original loss? And why is it that all the killer's victims are somehow tied to the alluring Contessa d'Aspi d'Istria? Will the Austrians unmask Palewski, or will the killer find him first? Only Yashim can uncover the truth behind the manifold mysteries.
About the Author
Jason Goodwin is the bestselling author of The Janissary Tree—winner of the 2007 Edgar ® Award for Best Novel—and The Snake Stone, the first two books in his series of novels featuring Yashim. Goodwin studied Byzantine history at Cambridge and is the author of Lords of the Horizons: A History of the Ottoman Empire, among other award-winning nonfiction.
Praise For The Bellini Card…
"When you read a historical mystery by Jason Goodwin, you take a magic carpet ride to the most exotic place on earth."—Marilyn Stasio , The New York Times Book Review
Praise for
The Bellini Card
"Escapist fiction at its most seductive." —Heather O'Donoghue,
The Times Literary Supplement
"Goodwin's previous books took us into the alleys and byways of nineteenth-century Istanbul. This is an equally vivid and well-informed account of Venice in 1840 . . . The plot is lively and interesting; but the real delight in this book is the atmospheric portrait of a fascinating place." —
Literary Review
Praise for
The Snake Stone
"Wonderfully entertaining . . . [Goodwin] uses short, punchy chapters and vibrant, atmospheric prose to bring the glory days of the Ottoman capital to life." —Adam Woog,
The Seattle Times
Praise for
The Janissary Tree,
Edgar® Award Winner for Best Novel "Everything you could want from a novel—beautifully written, a cracking story, and, in the figure of Yashim the eunuch, a wonderfully seductive and original detective." —Kate Mose, author of
Labyrinth